VW Gets Emissions Help Due to Slower EV Uptake Outside Europe
(Bloomberg) -- Volkswagen AG has reached "minor" deals with other carmakers for help meeting emissions rules in China and the U.S., where its electric vehicles aren't yet selling as quickly, its chief executive said.
Speaking on an earnings call Thursday, VW's Herbert Diess didn't specifically address whether the German automaker has agreed to buy credits from Tesla Inc. to help meet environmental rules. Reuters reported last month that VW's joint venture with state-owned China FAW Group had formed a pact with Tesla, citing people briefed on the matter.
"In Europe, we are confident that we will comply with the fleet targets," Diess said. The credit-purchasing deals VW has for China and the U.S. "are declining with the ramp-up of our EV strategy, and they should come down to zero within the next two or three years."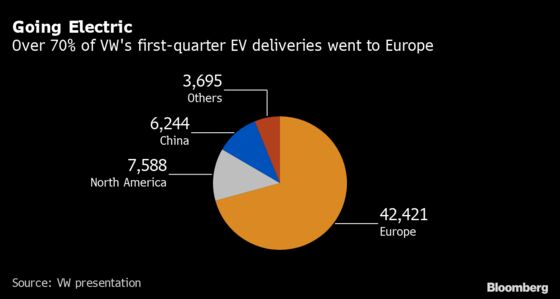 While VW has made more progress chasing Tesla on EVs than any other incumbent carmaker, its massive sales of combustion-engine cars complicate emissions-reduction efforts. The company also has been heavily reliant on Europe for its EV traction -- more than 70% of the battery-electric cars VW sold in the first quarter went to its home region.
Diess's comments suggest VW may make up for Tesla losing a key source of revenue from emissions credits that have been pivotal to the Model 3 maker's recent run of quarterly profits. Stellantis NV, the automaker formed through the merger of PSA Group and Fiat Chrysler, said Wednesday it is exiting a European emissions-credit agreement with Tesla because it expects to be able to comply with standards on its own.
Stay Updated With
Tech News
On BloombergQuint