Vonage CEO Says Demand Has Been 'Turbocharged' by Pandemic
(Bloomberg) -- Vonage Holdings Corp. is seeing a surge in demand for its business communications services as the coronavirus pandemic accelerates a longstanding trend of remote work.
"There had already been a trend of working from home, but clearly it has been turbocharged massively," Chief Executive Officer Alan Masarek said in a phone interview on Wednesday. He expects the outbreak "will create a permanent shift" in people working outside the office.
"We are signing up more clients and demand has spiked a great deal in several areas of the business," Masarek said. He pointed to the "dramatic increases" in Vonage's video service, where usage has risen 800%. The telemedicine business has seen an even bigger spike in usage due to the pandemic, with 2,000% growth.
While the current market environment has broadly pressured U.S. equities, investors have sought safe havens in companies that facilitate remote work, such as Zoom Video Communications or Slack Technologies. Cloud-computing companies have also found favor in an uncertain environment for technology spending.
In February, Vonage said it had initiated a strategic review of its consumer segment. Masarek said this process hasn't been affected by the change in the economic environment.
"We are full speed ahead on the review," he said, adding that it will "take a few months still to complete."
Thus far this year, Vonage shares are up about 6%, including an almost 1% gain in Wednesday's session. The S&P 500 has declined 15% year-to-date, while the S&P 500 Communication Services sector is down nearly 14%.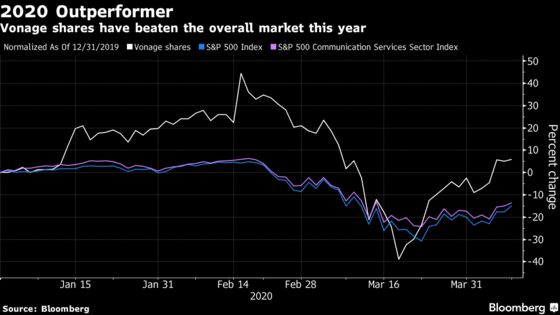 Vonage is expected to report its first-quarter results next month. Currently, Wall Street is looking for an adjusted profit of 1 cent a share on revenue of $281.7 million, according to data compiled by Bloomberg. The earnings expectation implies a drop of more than 75% from the year-ago period, though revenue is seen rising about 1% year-over-year.
The quickly evolving pandemic has raised questions about the reliability of estimates, as many analysts have let their numbers for individual stocks go stale. Over the past three months, the consensus for Vonage's earnings has declined by more than 50% while the revenue view has dropped by 8%, though most of those revisions were weeks ago.