Vodafone, Telecom Italia Are Said to Discuss 5G Network Deal
(Bloomberg) -- Vodafone Group Plc and Telecom Italia SpA are in talks to jointly build a next-generation wireless network in Italy, sharing the cost and accelerating the rollout of the high-speed connections, according to people with knowledge of the situation.
The two companies have signed a non-disclosure agreement about the potential collaboration on a 5G network, with the aim of reaching a deal in the first quarter of 2019, the people said, asking not to be identified because the discussions are private. No final decisions have been made, they said.
The partnership could include sharing wireless towers and radio equipment and potentially granting each other access to the 4.8 billion euros ($5.4 billion) in 5G spectrum the two companies purchased in this year's auction, they said.
Representatives for Telecom Italia and Vodafone declined to comment.
Telecom Italia rose 2.8 percent to 53 euro cents in Milan on Monday. Vodafone rose 0.3 percent to 144.36 pence in London.
A deal between the two rivals that would hasten the rollout of next-generation mobile services would probably be welcomed by the Italian government, which is pushing for faster internet speeds and discouraging efforts to build duplicate networks. Telecom Italia is responding to political pressure by looking to collaborate with state-backed Open Fiber SpA to expedite the buildout of high-speed connections to homes and businesses.
A network-sharing partnership with Vodafone would also signal that Telecom Italia Chief Executive Officer Amos Genish is able to stay focused on advancing the company's commercial interests, despite a shareholder battle that's fueled speculation about whether he can hold onto his job.
5G is already shaping up to be an expensive technology. To support the features it promises -- high-speed, low-latency connections for smart homes and cities, driverless cars as well as high-definition videos and games -- networks will have to be denser and able to handle the extra traffic.
The technology could end up being 100 times faster than 4G, with speeds that could reach 10 gigabits per second. This would allow a full-length high-definition movie to be downloaded in seconds. 5G will also increase transmission speed and total bandwidth, which will be needed to accommodate added demand from the "internet of things" -- the ballooning number of objects ranging from refrigerators to traffic lights to dog collars sending and receiving data.
The Italian airwave sale took in $7.6 billion, more than twice what the government had expected. The price for one of the spectrum bands that works best in built-up areas hit a world record during the auction, helping to make prices for building 5G in Europe some of the most expensive in the world.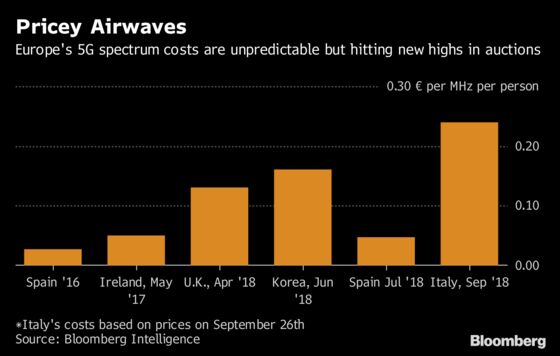 Vodafone's new Chief Executive Officer Nick Read, who succeeded Vittorio Colao in October, has signaled he's open to doing tower deals as the carrier contends with the upcoming bill for 5G.
Read is under pressure from investors to balance the cost of acquisitions, including the 18.4 billion-euro deal for some of Liberty Global Plc's European assets, with dividend commitments and spending on organic growth. It's also attracted the interest of activist Elliott Management Corp., which took a stake in the carrier but hasn't publicly outlined its intentions.
Intense competition, exacerbated by European regulators' frequent rulings against consolidation, is putting pressure on some carriers as they face the prospect of spending on new network technology.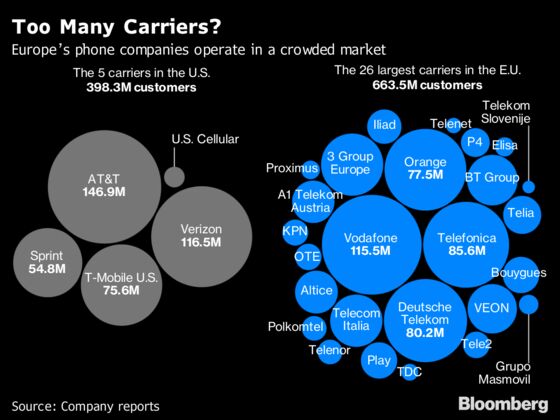 Telecom Italia this month scrapped a debt-reduction target and took an approximately 2 billion-euro asset writedown. The firm hasn't paid a dividend on its ordinary shares since 2013 and faces demands on its cash from network investments and spectrum costs to debt servicing and pension liabilities.