China Travel Curbs Widen With Global Virus Contagion Fears Rising
(Bloomberg) -- Restrictions on travel to and from China widened as rising fear of the Wuhan coronavirus prompted countries to bar entry and restrict flights, ignoring the guidance of the World Health Organization.
The Philippines -- which on Sunday reported the first virus death outside China -- and New Zealand were the latest to deny access to foreigners traveling from China, while South Korea will prevent arrivals from some parts of the mainland. The U.S., Australia, Singapore, Israel and Russia have announced restrictions as well.
In Hong Kong, thousands of medical professionals voted to begin a five-day strike Monday after authorities refused their demand to shut all entry points from China. The city's government appeared to open the door for more controls on travel from the mainland while appealing to them to reconsider their decision.
Vietnam halted air travel to China, Italy banned incoming flights -- the first European Union country to do so -- and Qatar Airways became the first Middle East carrier to suspend flights to China.
With confirmed cases in China exceeding 14,000 and deaths at over 300, countries want to keep those exposed to the potentially lethal virus from their shores. The moves run counter to the recommendation of the World Health Organization, which said Thursday that it could demand scientific justification from countries that go beyond its guidance not to restrict travel.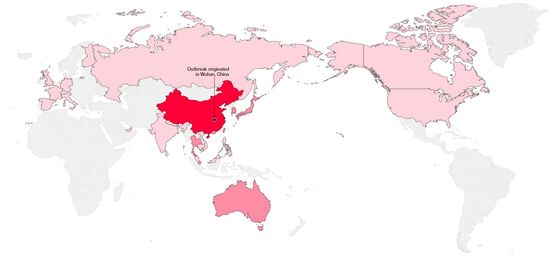 Under pressure from a rapidly expanding epidemic, the WHO declared the virus a public health emergency of international concern on Thursday. The move allows the agency to recommend travel and trade measures for specific countries, regions and cities that its member states usually follow, despite their economic consequences. In this case, WHO Director General Tedros Adhanom Ghebreyesus specifically discouraged any such measures.
"WHO doesn't recommend and actually opposes any restrictions for travel and trade or other measures against China," he said, while praising China's response to the outbreak. "If anyone is thinking about taking measures, it's going to be wrong."
WHO representatives didn't immediately respond to email and telephone requests for comment on the travel bans.
Countries began taking aggressive steps to limit travelers from China after the U.S. issued a rare quarantine order for a group of citizens repatriated travelers from the city of Wuhan -- the epicenter of the outbreak -- and restricted flights from China to seven airports. The Centers for Disease Control and Prevention advises avoiding all non-essential travel to China.