Video-Game Makers Ride to Riches on Arc of Keanu Reeves's Career
(Bloomberg) -- "Sonic the Hedgehog 3" had just been released and Keanu Reeves was about to hit the big screen in "Speed" when Marcin Iwinski and high school pal Michal Kicinski launched their video-game company.
It was May 1994 and the CD-ROM was still in vogue, so they called their venture CD Projekt and set out to distribute games for the Polish market. They struck deals with developers including Activision and Acclaim Entertainment, translating dialog, instructions and packaging into their native language.
A quarter-century later, at Microsoft Corp.'s 2019 Xbox conference in Los Angeles, Reeves shocked the video-game world, appearing onstage to present a demo of CD Projekt's "Cyberpunk 2077" -- a futuristic, role-playing game in which he'll appear.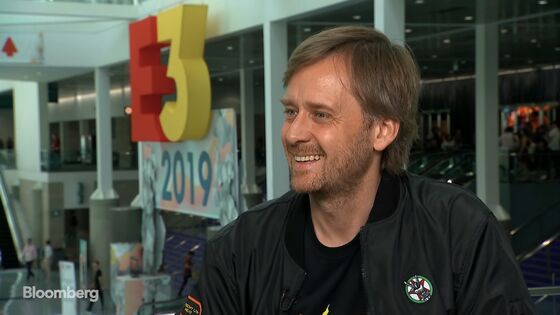 Shares of Warsaw-based CD Projekt have surged 43% since the Xbox event in June and more than 1,800% in the past five years, the best performance by far in Poland's WIG20 Index, putting Iwinski, the 45-year-old co-chief executive officer, on the cusp of becoming a billionaire. He owns 12.6% of the outstanding stock, giving him a net worth of $992 million. Kicinski, who left the company several years ago, has a 10.9% stake worth $847 million.
Both could soon join the rapidly growing ranks of video-game billionaires including Sea Ltd. co-founder Gang Ye, who crossed the threshold in November after the Singapore-based company reported that quarterly revenue tripled, as well as Epic Games Inc. founder Tim Sweeney, who brought "Fortnite" to the masses.
In its infancy, CD Projekt struggled to make money distributing legal copies of games because Poles preferred to buy cheaper pirated versions on the black market. So Iwinski and Kicinski expanded into e-commerce sales and programming and established the CD Projekt RED gaming studio.
In 2007, it introduced "Witcher" -- based on Andrzej Sapkowski's fantasy novels -- and turned it into a series of games that draws from Slavic mythology and features a lone medieval warrior, surrounded by strong female characters, battling supernatural beasts. The most recent version, "Witcher 3," sold tens of millions of copies and brought the studio global acclaim. Netflix recently launched "The Witcher" TV series, and its popularity could further boost game sales.
What Our

Analysts Say

:

"CD Projekt is expanding its online game-distribution business and increasing free-to-play titles ahead of promising new releases that will drive EPS growth in 2020 and beyond. Poland's largest video-game maker is investing in a new first-person, role-playing game, Cyberpunk 2077, that should exceed the lofty heights achieved with Witcher 3."

Matthew Kanterman, Bloomberg Intelligence
Since the launch of 'Witcher 3' in 2015, the developer hasn't released any major game that could drive new sales apart from add-ons or spinoffs from the existing franchise. In contrast with the industry's giants which have diversified portfolios and a steady stream of new releases, CD Projekt is betting big on a single title.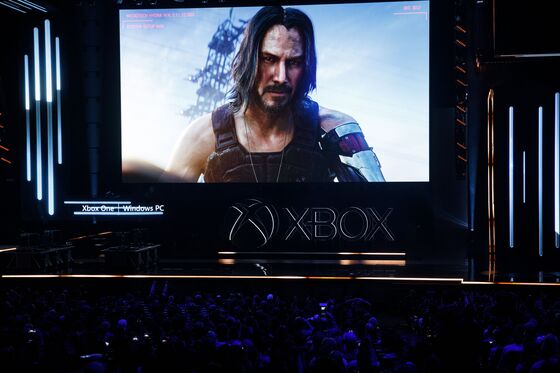 Cyberpunk's highly anticipated April debut was pushed back to September for its 400 programmers and designers to "test, bug-fix and polish" the company's next flagship product, according to a Jan. 16 regulatory filing that caused a fleeting drop in CD Projekt's stock.
Cyberpunk is intended to be one of the most technologically advanced productions for current gaming consoles.
Ken Rumph, an analyst at Jefferies Financial Group Inc., has said the delay probably won't inflict lasting damage on the company's fortunes.
"I don't think it stops Cyberpunk from being the hit of the year," he told Bloomberg last month.