Verbund to Expand Pumped-Storage Plant Boosting Flexibility
(Bloomberg) -- Austria's biggest utility said it will spend more than $500 million dollars to expand a key Alpine pumped-storage plant.
Verbund AG's Kaprun plant has been called the world's most beautiful battery. About 94% of the world's installed storage relies on this decades-old concept of pumping water uphill then generating power by releasing it downhill later. The plant at Kaprun currently stores enough power to cover almost 100,000 households for more than a week.
Verbund plans to invest some 480 million euros ($571 million) to build a third tunnel at Kaprun, Chief Executive Officer Michael Strugl said Wednesday during a press briefing. Construction will begin before the third quarter and will feed turbines with 480 megawatts capacity when finished.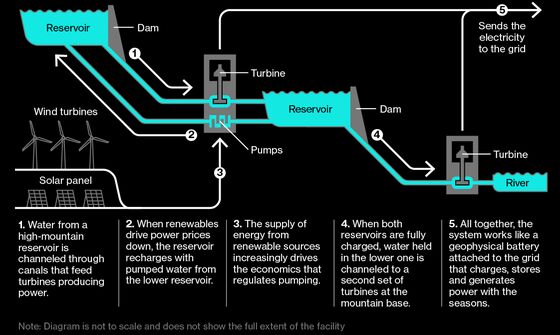 The decision to invest in Kaprun signals that big storage projects in Europe are back in the money. Falling wholesale power prices and rules had challenged the pumped-hydro sector over the last decade. However, the expansion of intermittent solar and wind power onto the grid changed the calculus brought the technology back into favor.
"We need the flexibility," said Strugl, whose company's 2020 results exceeded expectations earlier on Wednesday.