U.S. Refinery Insights: A West Coast Fuel Plant Finds a Buyer
(Bloomberg) -- Just when it seemed U.S. refiners were eager to get away from the West Coast's costly fuel standards and iffy fuel demand, along comes HollyFrontier Corp. saying its acquisition in Washington state makes perfect sense.
HollyFrontier views the West Coast market as short gasoline now, and the 145,000 barrel-a-day Puget Sound refinery it's buying from Royal Dutch Shell Plc has a heavy gasoline yield. Plus, it can make a play for the California market.
The company is clear, however, that Puget Sound is a one-time opportunity, and it won't be looking to buy a California refinery.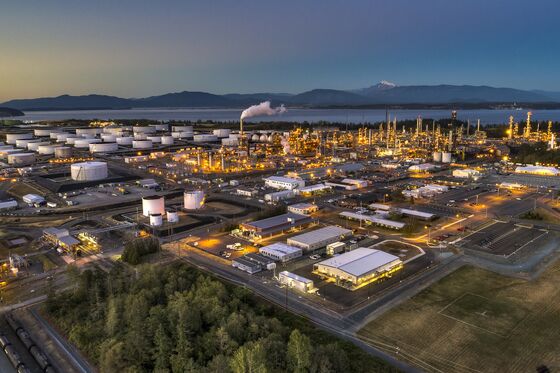 "I don't see us in California," Michael Jennings, HollyFrontier's chief executive officer, said Wednesday during a first-quarter earnings call. "We believe we'll benefit from what's going on in California."
It won't come without challenges. The West Coast has still to open fully since the pandemic, much of California's diesel output will be exported as it's displaced by biofuel, and the region's once lucrative jet fuel market suffers from a dearth of international travel. Marathon Petroleum Corp. said Tuesday that West Coast demand is still depressed compared to other areas.
Yet, oil refiners are betting there's still money to be made on the West Coast amid all the challenges. Besides gasoline, they are jumping into the heated race to sell renewable fuels that meet tough clean energy standards.
Marathon and Phillips 66 are converting their San Francisco-area refineries into renewable diesel plants. Marathon will also sell renewable fuel to California out of its Dickinson plant in North Dakota. HollyFrontier will sell renewable fuel from plants in Wyoming and New Mexico.
HollyFrontier Says Puget Sound Deal Is a One-Time Opportunity
HollyFrontier Drops After 'Decidedly Bearish' Refinery Deal
HollyFrontier's Puget Sound Deal Looks Cheap But Risky: React
Holly Growing Refining, Lubes Differentiate: Company Outlook
Marathon Says It Remains Cautious on Gasoline Demand Recovery
California Clean Fuels Outperform Fossil Fuels in 4Q 2020: BNEF
Refining margins (as of previous session, in $/bbl)
Maya U.S. Gulf coking at $4.16
LLS U.S. Gulf cracking at $8.59
WCS U.S. Midcontinent coking at $25.17
East Coast Forcados cracking at $3.18
Gulf Coast Maya coking at $4.16
Nymex crack spreads (as of previous session)
U.S. West Coast WCS crude oil 3-2-1 crack spread at $39.70
3-2-1 front-month crack spread at $22.75
For more crack spread futures, see CRCK