U.K. Upends Economic Orthodoxy That Growth Needs More Power
(Bloomberg) -- Britain is consuming less electricity even as its population grows, upending assumptions that expanding economies need to be coupled with rising power consumption.
Electricity use has been declining since 2005 as factors like energy efficiency, environmental awareness and a shift of power-intensive industries overseas have combined to cut consumption, according to Carbon Brief, a website that analyzes U.K. climate and energy policies. Generation last year dropped to its lowest level in 24 years even as the U.K.'s production of goods and services grew.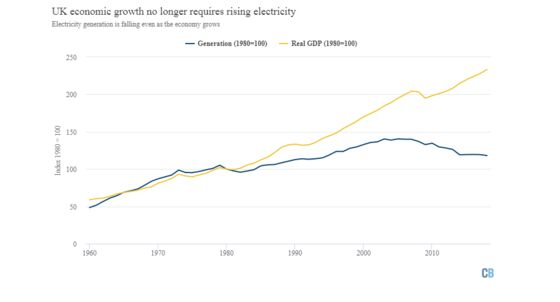 "The U.K. trend since 2005 breaks with the economic orthodoxy that a growing economy must be fueled by rising electricity use," Carbon Brief said. "The economy has continued to grow even as electricity generation has leveled off and then started to decline."
The decline in electricity use underlines the challenge faced by utilities to keep growing even as traditional revenue sources like energy supply and generation shrink. One part of the solution for suppliers will be to convince people to pay more for power to offset the consumption drop.
Output from renewable energy rose to a record, generating about a third of U.K. power in 2018, according to the report. Combined with nuclear, low-carbon sources contributed 53 percent of generation, with the share from fossil fuels at its lowest ever.
Reduced electricity use and the rise of renewables have been the two largest contributors to cutting carbon emissions from the power sector since 1990, according to the report.