U.K. to Start Funding Talks With EDF on Sizewell Reactors
The U.K. gave a boost to large-scale nuclear power projects, saying it wants to unlock investment in at least one plant by the middle of the decade and that it's starting talks with Electricite de France SA on a project.
The long-anticipated move would help replace the existing generation of atomic plants, all of which are due to retire by the middle of the next decade, and help shore up supplies of pollution-free electricity. It's also likely to put more taxpayer money on the line in financing giant power plants that can take more than a decade to build and cost $20 billion or more.
"We want a diverse supply of energy in the U.K.," Business and Energy Secretary Alok Sharma told BBC radio in an interview on Monday. "There is a big focus on renewables right now. The reality is the wind doesn't always blow and the sun doesn't always shine. Nuclear is not intermittent. It is reliable and it is safe, and that is why it will be part of the mix going forward."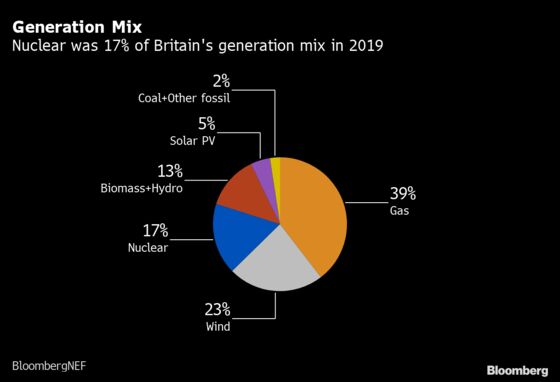 The U.K. is likely to need nuclear power as a source of low carbon electricity to meet its commitment to zero out emissions by 2050. Electricity use is set to double by then as heating and transport sectors electrify. The huge program of offshore wind the U.K. is planning to roll out within nine years will need back up for when the wind stops blowing. Nuclear can plug that gap.
Britain will start its own carbon market at the beginning of next year to help cut emissions even further.
The government said it wants to enable investment in "at least one nuclear power station" before the next election, which is due in 2024. It opened talks with EDF on funding for the Sizewell C development, saying a deal will depend on the French company's progress on the Hinkley Point C reactor already underway in western England. It could create as many as 25,000 jobs during construction.
The nuclear announcement may bring some relief for EDF after relations between Britain and France have strained during tense Brexit negotiations. EDF is struggling to finish a reactor at Flamanville, which is delayed by more than 10 years, and the nation has put further new projects on hold.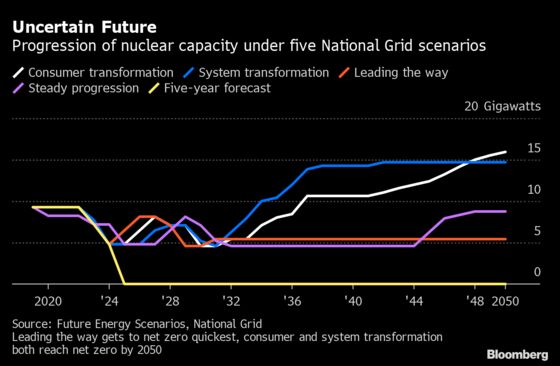 "We are confident that we can arrive at a funding solution which will provide value for money and help to lower energy bills for consumers," said Humphrey Cadoux-Hudson, managing director for nuclear development at EDF's U.K. unit
EDF shares rose 0.7% to 12.40 euros at 9:53 a.m. in Paris.
After reviewing possible funding methods for years, the government said it sees the Relative Asset Base system as "credible" and will also look at other methods. That model would replicate the way a major sewer project was funded. It differs from the system used to get Hinkley Point C under way, when the government in 2016 handed EDF a fixed price for power once the plant is finished in 2025.
In the RAB model, the taxpayer is liable for some construction risks, which would help get private-sector financing at a lower price. The government has also said it would consider taking an equity stake to help shoulder the cost.
"Putting billpayers on the hook for delays and cost overruns is a very risky move," said Jonathan Marshall, head of analysis at the Energy and Climate Intelligence Unit. "The expected funding models would see Brits footing the bill for Sizewell many years before it starts generating power."
The government says it will also continue to engage with the other developers in the U.K. new nuclear market on their proposals for further projects, including Small Modular Reactors and other advanced nuclear technologies. Small modular reactors have been promoted by the nuclear industry as a way to blend steady atomic generation with intermittent renewable energy.
"The U.K. will need much more nuclear capacity - large, small modular and advanced reactors - to hit net zero," Tom Greatrex, chief executive officer for the Nuclear Industry Association said.