U.K. Sees Big Future in Hydrogen for England's Key Gas Hub
(Bloomberg) -- A key U.K. energy hub could become a major hydrogen producer in the coming decades, potentially supplying London and helping the nation meet its clean-energy targets, according to a report from the country's oil and gas regulator.
The Bacton hub on the Norfolk coast -- which receives natural gas from fields in the North Sea and parts of northwest Europe -- could provide power to the southeast of the country for years and "help the drive to net-zero emissions," said the study commissioned by the U.K. Oil and Gas Authority.
Hydrogen from Bacton could help to decarbonize as much as 20% of the country's population, it said. "This hydrogen would have a mixture of domestic, commercial and industrial use, as well as for transportation."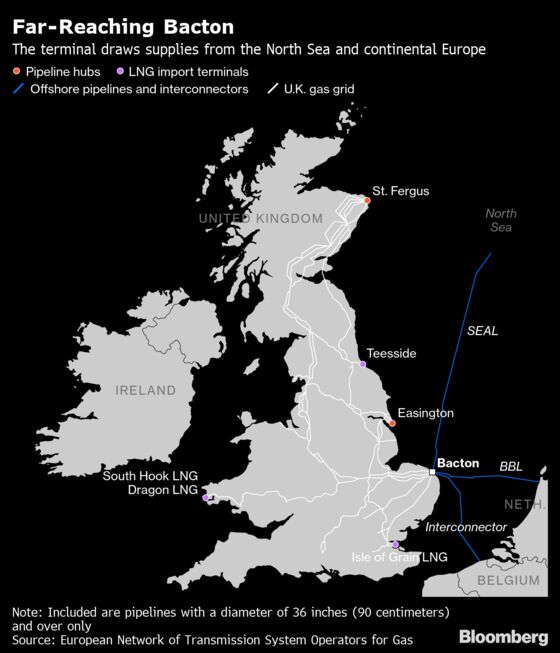 As governments across the globe seek to curb greenhouse gas emissions, energy majors -- under pressure from investors -- have been racing to join low-carbon ventures to meet climate change targets. Bacton operators from Royal Dutch Shell Plc to National Grid Plc are among the companies looking to hydrogen as decarbonization speeds up, seeking to utilize existing facilities for the next generation of energy.
Multiple types of hydrogen could be produced from the Bacton hub, which has been in operation for more than 50 years, according to the study. Natural gas could be used for so-called blue hydrogen, with enough reserves to last until the 2040s. The carbon produced in the process would be captured and stored offshore.
In addition, offshore wind, part Bacton's energy mix since 2004, could be used to make green hydrogen. There are currently plans for about 15 gigawatts of wind capacity in the area, according to the study. If that capacity were fully committed to green hydrogen, it could meet about half of the area's total estimated demand by 2050, it said.
The future production of so-called pink hydrogen -- sourced from a nuclear plant -- is also a possibility, said the regulator. The study was produced by consultant Progressive Energy on behalf of the OGA.
Bacton, which consists of six separate import terminals, is central to the U.K.'s energy supply because it is the only place where pipelines from the Netherlands and Belgium connect to the British grid. The hub also draws in supplies from a number of gas fields in the North Sea.