U.K. Seen Winning Premium in World's Biggest Green Bond Sale
(Bloomberg) -- Investors see the U.K. achieving lower borrowing costs through green bonds, after the government laid out plans for the world's largest sale of such debt to fund projects from hydrogen power to flood defences.
Britain's new framework comes ahead of planned green bond sales of at least 15 billion pounds ($20.7 billion) this fiscal year. That's probably the most ambitious green sovereign bond plan of any major country, U.K. Chancellor of the Exchequer Rishi Sunak told Bloomberg TV.
It "will certainly be the largest," Sunak said in an interview Thursday. "There are features about our reporting which are unique," he added, referring to the rulebook published on Wednesday.
That lays out how the funds can be used, including for spending on zero-emission buses, wind and solar power, and carbon capture. The government will also report on the social benefits of projects, including job creation, an element not normally included for green bonds that should appeal to ethically-focused funds.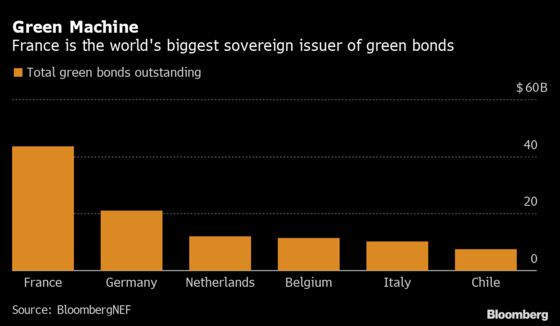 There will likely be strong demand for the green gilts, particularly since the largest U.K. pensions will be required to consider climate change in their strategies by law from October, according to RBC Europe. That may mean lower initial yields for investors but funds should expect better returns as the bonds rally, said Kerrin Rosenberg, the chief executive at Cardano U.K., which specializes in pensions risk and investment.
"Demand for green gilts will increase further causing outsized price appreciation," said Rosenberg. "Green gilts could also potentially offer a better risk-reward trade as the volatility of the bonds may be lower in the future than their conventional equivalent, due to the holding pattern of investors in green compared to traditional bonds."
A wave of money into environmental assets has led many green bonds to trade at a premium to conventional debt, or a so-called greenium. That's spurred a rush by borrowers, leading policy makers to create a plethora of rulebooks to try to regulate a market now worth over $3 trillion. So far the biggest sovereign sale has been by Italy this year, at 8.5 billion euros ($10.1 billion), while France is the top issuer overall.
Britain is a relatively late entrant to the market for ethical debt, though it's seeking to make post-Brexit London a hub for green finance. The U.K.'s regulations will rival those of the European Union, which will release its own green bond standards next week. The global push for rules comes amid increasing investor concerns over greenwashing -- where borrowers overstate the environmental benefits.
Exclusions from the U.K.'s framework include nuclear power, large-scale hydroelectric plants, ethanol-powered vehicles and the palm oil industry -- all controversial sectors and decisions likely to be welcomed by environmentalists. Tree-planting and peatland restoration will be supported.
"The Green Financing Framework's commitment to report on social co-benefits such as job creation and support for SMEs has the potential to help level up regional inequalities in the U.K. alongside supporting the government's green agenda," said Sarah Gordon, chief executive of the Impact Investing Institute, which advises the government on green bonds.
The plans marry two of Prime Minister Boris Johnson's key focus areas as he seeks to carve out a post-Brexit role: putting the U.K. at the forefront of the global fight against climate change, and ensuring the country retains its leadership in financial markets by developing new products.
The new debt framework will also enable retail investors to help fund environmental projects, with a green bond to be offered by National Savings and Investments, the country's state-owned savings bank. The Treasury and Debt Management Office will speak to investors on the new rules on Friday, with the inaugural green bond sale expected in September.
The plans drew initial approval from a new breed of companies providing second opinions on green debt. Vigeo Eiris, an affiliate of Moody's ESG Solutions, said the framework aligns with nine United Nations Sustainable Development Goals and should help the U.K. achieve its environmental commitments and goals.
Carbon Trust, an independent advisory group, said it's confident that the government's green financing program will contribute to achieving net-zero emissions by 2050. Still, it recommends ongoing tracking to ensure this continues to be the case.
Johnson's government is being scrutinized for falling short on delivering policies for its goal to reach net zero, ahead of hosting a key round of UN climate talks in Glasgow in November.
"There's a real danger this green bonds announcement is all talk and no action," said opposition lawmaker and shadow chief secretary to the Treasury Bridget Phillipson. "We need far more details and a watertight guarantee that these bonds are spent properly on the green jobs and initiatives that will curb climate breakdown."