U.K. Coal-Power Output Rises to One-Month High on Low Wind
U.K. coal-fired power generation jumped to the highest in a month, with wind output slumping just as morning demand picked up.
Uniper SE started its Ratcliffe coal plant Friday, bringing total coal-fired output to 1,499 megawatts, at least 3% of demand. With gas costs still high and wind waning, peak power prices for Friday settled above 1,000 pounds a megawatt-hour in an auction Thursday, potentially boosting coal-fed production further.
"The U.K. may further rely on coal output over the near term amidst rising gas prices, making coal economically viable over the short term," RBC Europe said in an emailed note.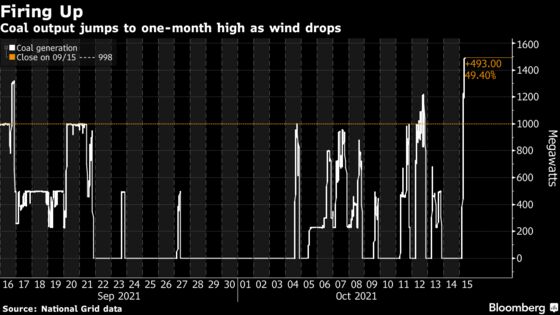 Wind's share of demand fell to 20% on Friday morning, but is forecast to recover, with generation seen rising near record levels next week. 
Capacity cuts on two interconnectors linking Ireland and the U.K. mainland are limiting one source of potential imports. The Irish network operator has cited "system security reasons" for the restricted flows.
Imports to Britain from France are also limited, with a fire-damaged power cable linking the countries unlikely to be fully operational again until October 2023, according to National Grid Plc. 
U.K. power prices for next season are up 10% this week at 113.25 pounds a megawatt-hour, after retreating slightly on Friday in broker trading.
The benchmark German power contract for next year recovered from last week's losses, climbing 11% this week to 132 euros a megawatt-hour. 
MARKET STORIES 
Glencore Cuts Zinc Output at Europe Plants on Power Costs
Swedish Paper Mill to Cut Jobs Due to Soaring Energy Costs
Power Crunch Adds to Multiplying Risks for European Growth: BofA
German Consumers Will Pay Less to Fund Renewables Next Year
Autumn Heat May Curb European Gas Demand, Prices Next Week
Ukraine Shuts 19 Coal Power Stations After Fuel Shortages: ITN
Stay Updated With
Tech News
On BloombergQuint