Tokyo Whale Sells $230 Million of Bitcoin in Mt. Gox Wind-Down
(Bloomberg) -- The trustee liquidating cryptocurrencies on behalf of defunct exchange Mt. Gox has offloaded another 25.98 billion yen ($230 million) of Bitcoin and Bitcoin Cash.
The disposals were made in the period since the 10th creditors meeting was held on March 7, Nobuaki Kobayashi said in a statement on Tuesday. The total compares with 43 billion yen in the prior round of sales, which the bankruptcy attorney announced six months ago.
Digital coin investors closely follow the moves of Kobayashi, who is known in crypto circles as the "Tokyo whale" because of the heap of tokens he controls.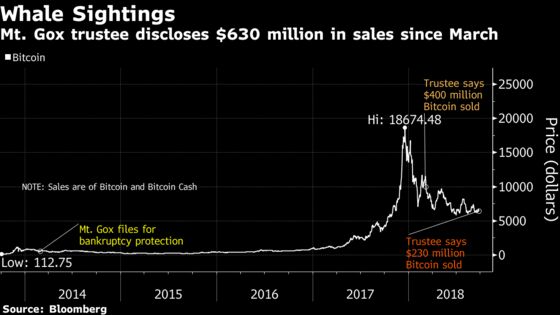 Japan-based Mt. Gox, once the largest Bitcoin exchange, filed for protection from creditors about four years ago after disclosing that it lost 850,000 Bitcoins. Back then, the haul was worth about $500 million but would now fetch more than $5 billion.
The defunct company, which later said it recovered about 200,000 Bitcoins, blamed hackers for the loss.
Based on the yen raised and the number of coins sold, the latest disposal received an average price of $8,100 per Bitcoin, according to calculations by Bloomberg. The cryptocurrency fell 3 percent to $6,425.01 as of 9:38 a.m. in New York. Bitcoin Cash dropped 6.7 percent to $436.65.