Three Democrats Are Buying Almost All the Campaign Ads on Twitter
(Bloomberg) -- Seventy-five percent of the money spent on Twitter campaign ads since June has been by only three Democrats: Beto O'Rourke, Sen. Kamala Harris of California, and Sen. Kirsten Gillibrand of New York. O'Rourke is waging a long-shot but well-funded campaign for a U.S. senate seat in Texas, and the $810,000 that he's spent makes up nearly 40 percent of reported political spending on the platform. That's according to a Bloomberg analysis of data from Twitter's website.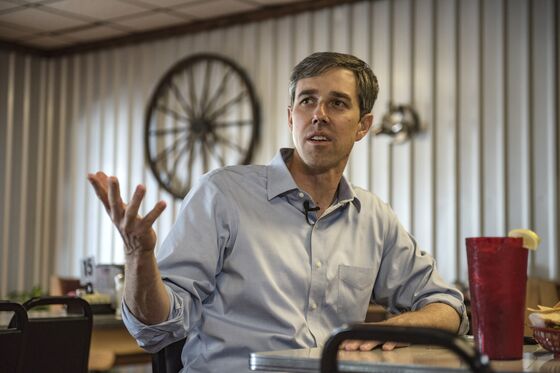 The numbers give a glimpse into a partisan split in political spending online heading into the final days of the 2018 midterm elections. They're also a reminder of how Twitter attracts relatively little paid political advertising, despite its prominence as an arena for political speech. In a year when control of the House and Senate are potentially up for grabs, Twitter has certified fewer than two-dozen House candidates to run campaign ads on the site; 14 of them are Democrats and eight come from the GOP. In the Senate, 11 Democratic candidates and four Republican candidates are certified to run ads.  
Twitter lists 85 certified political advertisers in total, and says they've spent about $2.1 million since the company began tracking in June. Twitter's disclosures don't capture all spending on the platform, because the company currently doesn't disclose spending from state and local candidates. But it's a pittance compared to the $296 million that Facebook says it has taken in from 85,000 political advertisers since May.  ExxonMobil's reported political spending on Facebook since May slightly exceeds the total reported ad activity on Twitter.  
The main reason Twitter holds less appeal than Facebook for political advertisers is its reach, said Greg Dale, director of campaign relations at Tech for Campaigns, a group that provides volunteer workers and builds technology for Democratic candidates. "Twitter will have a high-value but narrow audience," he said. "It's probably a good way to reach the people running campaigns, but not the people being convinced by them." Twitter's tools for targeting specific audiences and testing various iterations of the same message are also less sophisticated than Facebook's.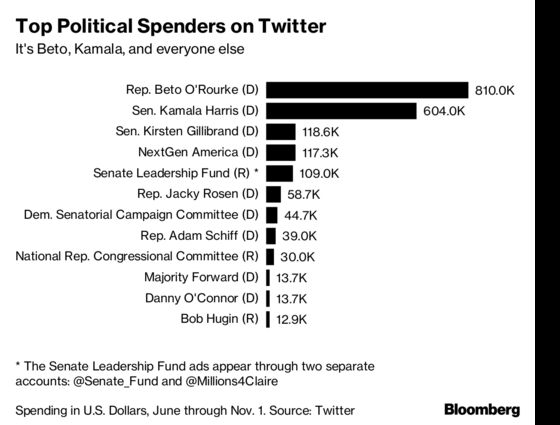 What most candidates — and officeholders — hope to get from Twitter is some version of the success of President Donald Trump. His tweets regularly drive news coverage, even though he has not paid a single dollar on Twitter advertising since June. Trump's approach to Facebook is fundamentally different. His Make America Great Again Committee is the second-highest spending political advertiser on the platform, behind O'Rourke.  
Paid political speech online drew significant attention after the 2016 presidential election. Last October, Senators Amy Klobuchar, Mark Warner, and John McCain introduced a bill to require more disclosures about political ads on social media. The bill hasn't gone anywhere, but Facebook, Google, and Twitter have all developed new transparency policies for political ads. There's no clear consequences to the companies for falling short of their promises. There are also reasons to question how effective they've been. Journalists from Vice recently reported that they were able to buy political ads on Facebook under false pretenses, promoting political messages under the names of public officials. At least one congressional campaign that says it has bought Twitter ads — that of Diane Mitsch Bush in Colorado — doesn't show up on Twitter's database. Twitter said that candidates who don't show up in the database were not properly certified.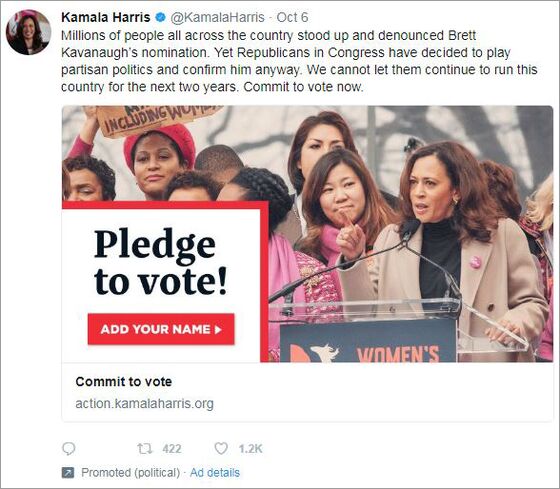 Following 2016, many Democratic strategists complained that the Republicans — and particularly Trump's campaign — were far more aggressive online. Its candidates seem to have gotten that message, and have been outspending the GOP by a significant margin. 
According to Twitter, the top six highest-spending candidates were all Democrats, and liberal-leaning interest groups slightly outspent their conservative counterparts. The biggest spending account on the Republican side has been one run by the Senate Leadership Fund, a superPAC. The account, @Millions4Claire, is dedicated to negative tweets about Missouri Senator Claire McCaskill, a Democrat. Three other accounts are also dedicated to supporting McCaskill's Republican opponent, Josh Hawley. Hawley's campaign itself hasn't paid to promote any of its own tweets.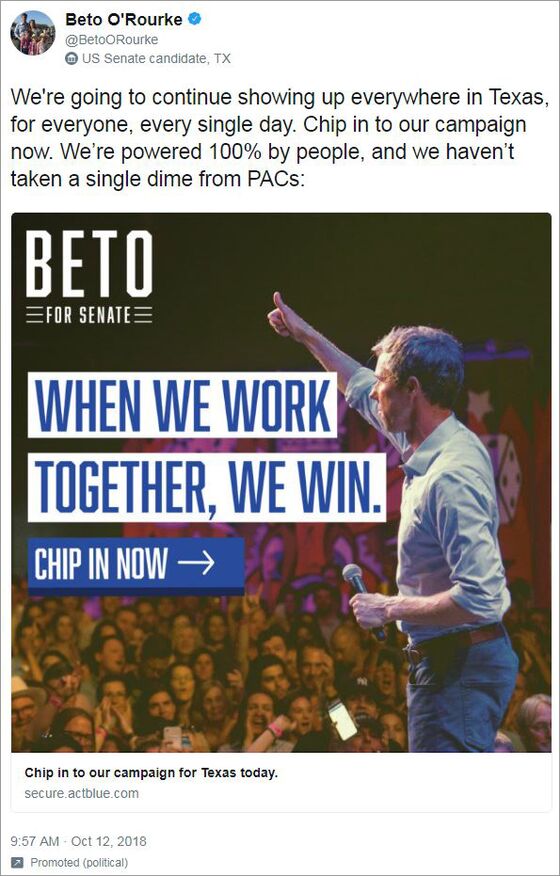 The partisan imbalance on Twitter this year mirrors spending on Facebook. Liberal candidates and advocacy groups spent 3.5 times as much on the platform as conservatives did from October 21 to October 27, the most recent period for which data is available, according to an analysis this week by the Atlantic. 
It's too early to determine what impact online spending will have in this next week's election. But it's also notable that the two biggest spenders on Twitter behind O'Rourke aren't exactly engaged in a last-minute effort to push voters to the polls. Harris, who has spent over $600,000 on Twitter ads, isn't even facing re-election. Gillibrand, who has spent $119,000, is up by nearly 30 points in her re-election campaign. For them, the ads running now likely serve as a foundation for the real race: the 2020 campaign for president.