The Weak Euro Hasn't Put Europe in the Money Yet: Taking Stock
(Bloomberg) -- It seems odd for a strong international exporting continent not to benefit from a weaker currency. That's what has happened to European equities in recent months, as they underperformed against their U.S. peers, despite a clear foreign-exchange benefit. Comments from ECB member Benoit Coeure on Friday, who said the central bank could provide banks with fresh longer-term loans, sent the euro lower and the region's stocks higher. Could this be the start of a reversal?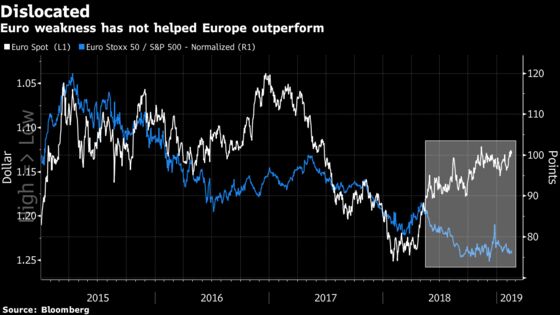 In theory, a weaker euro should have benefited cyclicals and exporters. The problem lies in the reasons for its frailty, which are mainly a poor macro-economic backdrop and politics, according to BNP Paribas Global Head of Equity Derivative Strategy Edmund Shing.
The euro is hovering near its lowest level since mid-2017 and it remains to be seen whether it could bounce in the near term. UBS Wealth Management says the single currency has remained in a tight 1.12 to 1.16 range for the last five months, and for them to to become more bullish, European economic data must stabilize first.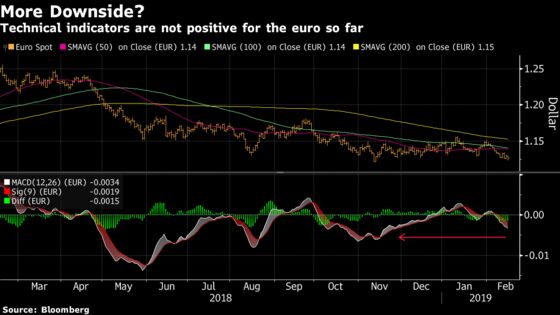 From a technical view, the direction of travel for the currency points lower, analyst Sejul Gokal wrote in an email. The price-action is characterized by "up-down-up-down" days, illustrating an apparent failure to commit to one direction. Gokal sees daily studies on the bearish side with the MACD momentum indicator pointing to fresh trend lows (lowest since November).
So who could benefit from a feeble single currency? BNP's Shing highlights aerospace and defense as the natural winners. Luxury goods should also gain if Chinese demand doesn't weaken, as well as major airlines, which would be more competitive on pricing. As for industrials, they will need good news on the U.S.-China trade talks before they see some improvements, according to the strategist.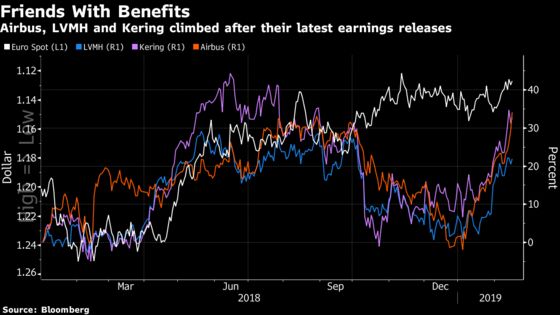 On the other side, clothing retailers and local media could be impacted as they usually spend in foreign currency and get revenue in euros. Let's not forget about banks, which have been very close to the euro, particularly with the ECB tied to a loose monetary policy given the weak economy.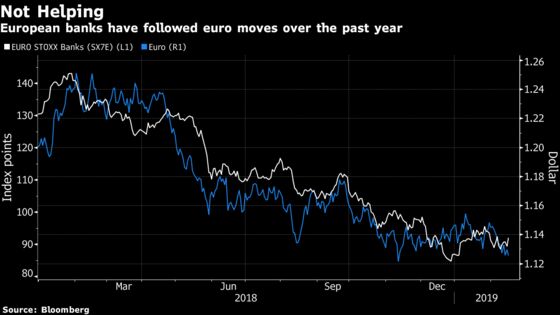 What's next for the euro? Deutsche Bank strategists said in a note that the dollar benefited from the trade war, Brexit and Italian political risk in 2018. In anticipation of a soft Brexit and a China-U.S. trade deal over the coming weeks, the risk is skewed to the downside for the U.S. currency. With the inverse relationship between the value of the greenback and commodities, DB strategists list European chemicals and energy as key beneficiaries of a rise in crude oil, while European pharma and airlines would likely suffer.
Ahead of the open in Europe, Euro Stoxx 50 futures are up 0.2%. U.S. markets are closed for a public holiday.
Watch banks as dovish signals from the ECB are piling up. Governing Council member Francois Villeroy de Galhau said the slowdown in the European economy is "significant" and the central bank may have to alter its interest rate guidance should the weakness not prove temporary. He echoed comments from Benoit Coeure, whose remarks about the potential for new long-term loans sent banking stocks soaring on Friday.
Watch cyclicals as focus remains on how willing the U.S. and China ultimately prove to be in the aim of getting a trade deal done before the March 1 deadline for the temporary truce passes.
European automakers and suppliers will be in focus after Chinese car sales fell anew in January and after the U.S. report on the potential security threat posed by imported cars was delivered to President Donald Trump.
"The latest monetary developments are yet another argument lending support to our call for TLTROs to be announced, most likely, at the March ECB Governing Council meeting," Barclays strategists write in a note. "We believe TLTROs will be announced to mitigate liquidity risks and to provide further support via bank lending to the already slowing economy."
Bafin Bans New Net Short Positions in Wirecard Shares
Norwegian CEO, Chairman Sell Rights at 70% of Theoretical Value
Anglo Platinum Hikes Dividend as Rising Palladium Boosts Cash
Swiss Re Completes Public Share Buy-Back Program 2018
Faurecia Sees Global Auto Production Down 1% in 2019 V. 2018
Hembla Fourth-Quarter Rental Income SEK471 Mln
Buy Essity on Growth, Defensive Qualities: Dagens Industri
Bertrandt First-Quarter Ebit EU18.3 Mln
Handelsbanken Names Carina Akerstrom as New CEO
VW, GAZ Group Eye Deeper Ties If Sanctions Lifted: Kommersant
Repsol Makes Significant Gas Discovery in Indonesia: Regulator
Aberdeen Standard Acquires Asian Property Firm Orion Partners
Saudi Arabia Denies Report Of Bid to Acquire Manchester United
Tiger Global Exits Barclays Stake, FT Says
EDF CEO Levy Sees Nuclear Output at 405 TWh in Coming Yrs: Echos
Merck KGaA, Pfizer's New Therapy Effective in Kidney Cancer Test
Spain's DIA Says Capital Increase Is Its Only Realistic Chance
Ferrovial Unit Readies Payment to Exit U.K. Contract, Times Says
KLM, Air France-KLM CEOs Agree on Governance Plan, Tribune Says
VW's Lamborghini Targets Sales of 8,000 Cars in 2019, Welt Says
Virgin Hires Advisers to Raise Cash for Space Ventures, Sky Says
Day in Talks to Buy M&S, House of Fraser Stores, Telegraph Says
ACS Wins $3.3 Billion Contract to Build Virginia Bridge-Tunnel
EDP Is Studying Sale of Some Hydropower Plants, Expresso Reports
NOTES FROM THE SELL SIDE:
Saipem has been "challenged" over the past 5 years with issues including unprofitable contracts, bribery case and a sector downturn, but turnaround by CEO Stefano Cao has led to "fundamental change," Bernstein says.
Macro and political risk factors are unlikely to abate any time soon for Italian banks, Jefferies analysts write in a note. They are taking a more cautious view on Intesa Sanpaolo but see UniCredit trading at too steep a discount.
Thyssenkrupp has upcoming milestones over the next year from JV approval and portfolio alignment, and these opportunities should outweigh risks the co. faces, Bankhaus Lampe says in note.
TECHNICAL OUTLOOK for Stoxx 600 index:
Resistance at 371 (200-DMA); 379.9 (23.6% Fibo)
Support at 365.1 (38.2% Fibo); 353.2 (50% Fibo)
RSI: 67.6
TECHNICAL OUTLOOK for Euro Stoxx 50 index:
Resistance at 3,303 (200-DMA); 3,315 (38.2% Fibo)
Support at 3,194 (50% Fibo); 3,094 (50-DMA)
RSI: 64.5
MAIN RESEARCH AND RATING CHANGES:
UPGRADES:
Atrium Ljungberg raised to buy at Kepler Cheuvreux
Continental upgraded to hold at Berenberg
Dassault Systemes upgraded to reduce at AlphaValue
Kuka upgraded to hold at HSBC; PT 51 Euros
Legrand upgraded to neutral at JPMorgan; PT 58 Euros
Sunrise upgraded to buy at Berenberg
Swedish Match upgraded to buy at SocGen; PT 520 Kronor
ThyssenKrupp upgraded to buy at Bankhaus Lampe
Centrica downgraded to hold at Berenberg
Nordex cut to neutral at MainFirst; Price Target 10.50 Euros
Petrofac downgraded to hold at HSBC; PT 3.80 Pounds
Renault downgraded to reduce at AlphaValue
Frontier Developments rated new sell at Goodbody; PT 7 Pounds
Isra Vision rated new buy at Pareto Securities; PT 36 Euros
MSCI Asia Pacific up 1.1%, Nikkei 225 up 1.8%
S&P 500 up 1.1%, Dow up 1.7%, Nasdaq up 0.6%
Euro up 0.11% at $1.1308
Dollar Index down 0.1% at 96.81
Yen down 0.08% at 110.56
Brent up 0.6% at $66.6/bbl, WTI up 0.9% to $56.1/bbl
LME 3m Copper up 0.9% at $6245.5/MT
Gold spot up 0.1% at $1323.3/oz
MAIN MACRO DATA (all times CET):
10am: (SZ) Feb. Total Sight Deposits CHF, prior 576.2b
10am: (SZ) Feb. Domestic Sight Deposits CHF, prior 486.8b