The 30 Percent App Fees Are Too Damn High
(Bloomberg Businessweek) -- Some fees are hard-wired into our life. People tip 15 percent to 20 percent at U.S. restaurants. Hedge funds have long charged a 2 percent management fee plus 20 percent of investment gains. And Apple Inc. and Alphabet Inc. take a 30 percent cut when someone buys a virtual lollipop hammer in Candy Crush or signs up for an online HBO subscription through their smartphone app stores.
Since Apple started its App Store in 2008, companies including Spotify Technology SA and Amazon.com Inc. have railed against the company for, they say, taking unfairly high commissions. The backlash is growing. The U.S. Supreme Court heard arguments in November from a group of iPhone owners trying to sue Apple for creating a monopoly with the App Store and driving up app prices. (Apple argues that because developers pay the fees, consumers don't have standing.)
A decision against Apple could force wholesale changes to the App Store model. But the bigger risk comes from powerful developers such as Epic Games Inc., maker of the wildly popular Fortnite video game franchise. Already, Android users have to go directly to Epic's site to download its games. No such end run exists in the Apple universe, which doesn't let users download programs outside the App Store, but there are ways to get around paying. In December, for instance, Netflix Inc. stopped allowing new users to pay for their subscriptions in the iPhone—after taking a similar step for Android users months earlier.
These drumbeats are still relatively low-volume, but as a greater number of big companies take up the cause, the noise will be harder for Apple to ignore.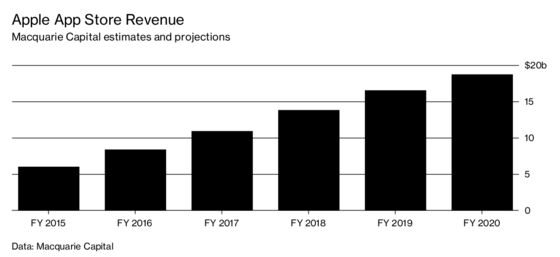 The stakes for Apple are particularly high going into 2019. On Jan. 2, Apple said iPhone sales fell in the important holiday-shopping quarter ended in December. Investors are betting app fees and other internet transactions will lead revenue growth if iPhone sales continue to decline. 
Both Apple and Google take 30 percent of app subscription fees for the first year. That shrinks to 15 percent in subsequent years.
Users dropped $101 billion globally on apps and app-based purchases in 2018, estimates industry tracker App Annie Inc., up from $82 billion in 2017.
● THE RISE OF THE APP STORE
Apple skipped its typical disclosure of full-year App Store purchases and developer payouts for 2018, but analysts estimate revenue has risen steadily. At the same time, growth of its iPhone income stream has become unreliable. 
—Ovide is a tech columnist for Bloomberg Opinion.
To contact the editor responsible for this story: Jillian Goodman at jgoodman74@bloomberg.net, Eric Gelman