Tesla's `Out of Left Field' Price Cut Disappoints Street
(Bloomberg) -- Tesla Inc. shares dropped as much as 10 percent on Wednesday after the company reported fourth-quarter Model 3 deliveries just below estimates and said it would lower the price of its cars, prompting at least one analyst to flag the selloff as "overdone."
The electric vehicle maker said it would cut the price on its cars by $2,000, to help make up for U.S. buyers now being eligible for only a $3,750 federal tax credit for the next six months, half of what they previously received. The unexpected move triggered concerns about demand for Tesla's cars, as well as the profit margin - two closely watched metrics for the company.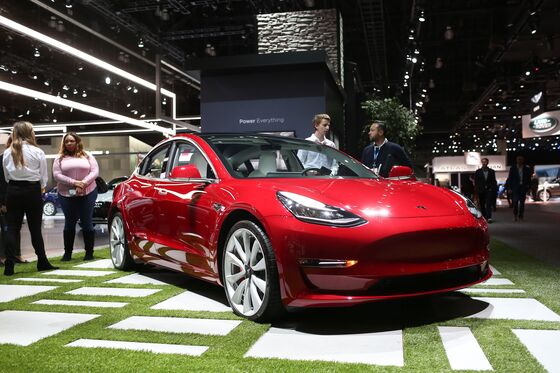 "The optics of this decision are weighing on shares, which is not surprising," Consumer Edge analyst James Albertine wrote in a note to clients, but "in the broader context of the staggering growth Tesla has executed in the past year" they are over-correcting on the news. The analyst said demand for Tesla vehicles, most notably the Model 3, remained strong leaving 2018 and entering 2019. "To us, demand is not an issue, nor is EV competition to this point," Albertine added.
Tesla shares closed down 6.8 percent at $310.12 in New York.
Here's a round up of the analyst comments on the delivery numbers.
Goldman Sachs, David Tamberrino
"We thought the delivery numbers came in okay in the quarter, but production came in worse than we expected, and we still have questions on vehicle demand."
"The implied increase in inventory levels for the Model 3 is a concern as Tesla's direct to consumer sales model without added incentives may be tested quicker than we previously envisioned and could hinder margins."
"We believe the question of demand as well as the lack of re-affirmation of positive net income and free cash flow guidance in part contributed to the shares underperformance today in trading."
Bernstein, Toni Sacconaghi
"While Tesla's price cut is likely to spook investors, we worry less about it: the gross margin impact is modest and could be made up by foreign high-end mix and further production/productivity improvements."
"Tesla direct and integrated business model allows it to manage demand/profitability real-time through levers such as price/ promotion/financing, and geographical expansion, which we see as a key structural advantage."
"We estimate that nearly three quarters of Model 3 reservation holders in the U.S. have not yet ordered a Model 3. It is unclear if this is bullish (latent demand) or bearish (lost interest)."
Market perform, price target $325.
Morgan Stanley, Adam Jonas
"The 4Q delivery miss especially disappointing given the extraordinary efforts made to produce and deliver vehicles into year end."
"The announced price cut is probably a bigger negative than the delivery miss. A $2,000 cut represents roughly a 4 percent discount on an average Model 3."
"Tesla sets a precedent with a straight discount of its cars. While the company is known for implementing innovative moves to stimulate awareness and value of its products, today's price cut is, to our knowledge, the most conspicuous price cut from the company since the Model S launch."
Equal-weight, price target $291.
"Bigger negative is Tesla cutting prices on Models S/X/3 by $2,000. Bears will seize on this move as evidence of demand issues and that company was overly reliant on the $7,500 federal tax credit which got cut in half (for Tesla) on January 1, 2019."
"All else equal, this price cut could be a ~300bps gross margin headwind to Model 3. We estimate it could be a ~150bps gross margin headwind to S/X."
Sector perform, price target $290 from $340.
Consumer Edge, James Albertine
Albertine, who has an equal-weight rating and a price target of $350 on the company, noted that Tesla constantly tinkers with its retail strategy to benefit its customers.
The analyst would like to see Tesla hire a COO or Co-President to help cement the progress made to date and provide a better, potentially less volatile foundation for growth.
"Fourth-quarter deliveries were slightly below consensus, but shares are likely under pressure on an announced $2,000 price reduction, which may exacerbate concerns over moderating demand."
"We continue to believe demand concerns are overblown; we think the company has several levers to drive additional Model 3 sales, including shipping to international markets (expected in February), and introduction of leasing options/lower cost variants."
"We think deliveries are more than sufficient to support strong quarterly results and we remain buyers."
Outperform, price target $465.
Noted that Tesla's price cut "came out of left field", and while a potential positive for demand, it is not what the bulls wanted to hear on the impact to profitability and ultimately the bottom line.
"With the EV tax credit getting cut in half from $7,500 in 2018 to $3,750 beginning January 1, the lack of a significant pull forward was a bit of a surprise to the bulls in terms of fourth-quarter Model 3 deliveries and will weigh on shares accordingly."
"We remain bullish on the Tesla story given our view that the company is in the early innings of a transformational EV growth opportunity for the next decade although the modest Model 3 delivery miss this quarter in the near term will be the focus of investors and put pressure on shares."
Outperform, price target $440.