Tesla's 'Un-IPhone Moment' Shows It Can't Be the Apple of Autos
(Bloomberg) -- Tesla Inc.'s $35,000 Model 3 and online-only sales structure mean investors should give up on the idea of the company being to cars what Apple Inc. is to mobile phones.
Barclays equity analyst Brian A. Johnson highlighted the company's "un-iPhone moment'' in lowering his price target on the stock to $192 from $210, which represents downside of more than 30 percent from its closing price on Monday. He maintained his underweight rating.
This more bearish view comes amid a shift in strategy that has not been well received by investors, and as Chief Executive Officer Elon Musk continues his spat with the Securities and Exchange Commission.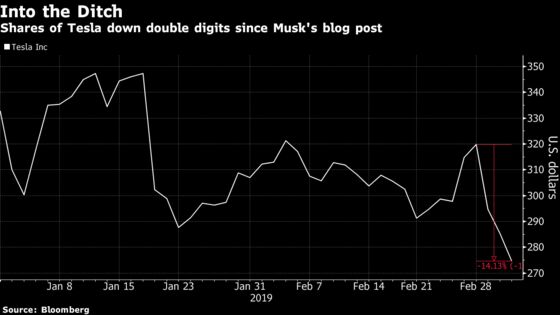 "Much of the bull narrative has rested on Tesla being the next Apple, selling high-volume electric vehicles at premium price point and at high gross margins, in part aided by a unique branded retail presence -- a narrative we see as undermined by the recent price cuts and closing of most of the stores,'' Johnson wrote in a note to clients Tuesday.
Tesla shares have slumped 14 percent since Musk's blog post on Feb. 28 announcing the Model 3 price cut and store closures. The stock slipped 3.5 percent at 11:40 a.m. in New York to extend the three-day slide.
The bull case for Tesla now hinges on the company evolving into another tech behemoth -- "the Amazon of automotive, and the Model 3 becoming the modern day Model T,'' he said. That is to say, Tesla needs to compete on cost and technology –- both in terms of cars and online-only sales –- to differentiate itself and grab substantial market share.
Other analysts are reaching a similar conclusion. Morgan Stanley's Adam Jonas wrote Monday that purchasing a Tesla online requires "about as many clicks as it takes to buy catnip on Amazon."
The relatively low price point bolsters Tesla's potential for mass-market disruption, according to Johnson. But it also means margins will be "appreciably lower," which should weigh on longer-term profit projections and equity valuations, he said.