Tesla's Crazy Quarter Ends With Model 3 Guessing Game
(Bloomberg) -- It's been a wild quarter, even by Tesla Inc.'s whirlwind standards. As the drama over Elon Musk's failed plan to take the company private culminated in an SEC settlement that limits Musk's control, Tesla's all-electric Model 3 has quietly climbed the ranks of the best-selling cars in the U.S. The focus has subtly shifted from how many cars Tesla can produce to how many it can deliver—and at what cost. 
The quarter concluded on Sunday, and Tesla is expected to report its production and delivery figures for the last three months early this week. Tesla has repeatedly fallen short of its own manufacturing targets, putting its balance sheet in mortal peril. In this past quarter, however, Musk vowed to reach a turning point and finally demonstrate that Tesla can be profitable. It would be, he told employees over the weekend, an "epic victory beyond all expectations."
Here's a rundown of what to expect from next week's numbers: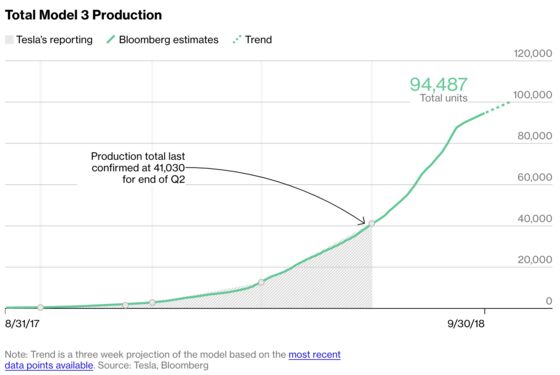 Back in February, Bloomberg introduced an experimental tool to monitor the Model 3 rollout by using vehicle identification numbers to estimate production in real time. The Model 3 tracker currently projects that Tesla will finish the quarter making 53,457 Model 3s. That's above the Wall Street consensus of 50,416—the average estimate of five analysts polled by Bloomberg—and toward the high end of Musk's July forecast of between 50,000 to 55,000 Model 3s.
In total, according to the Model 3 tracker, Tesla has made about 94,192 of the sedans from the start of production in July 2017 to the end of September 2018—and more than half of that output happened this past quarter. Tesla still hasn't sustained the 5,000 cars per week rate that Musk initially said would be achieved last year. But it's getting close: Bloomberg's estimate is for a an average rate of 4,112 a week for the quarter.
The Bloomberg tracker's numbers are subject to change as it incorporates more data from the final days of the quarter. Back in the first quarter of 2018, the tool underestimated the actual production total by less than 5 percent—coming closer than the Wall Street's consensus. In the second quarter, the model underestimated Tesla's production by just 2 percent.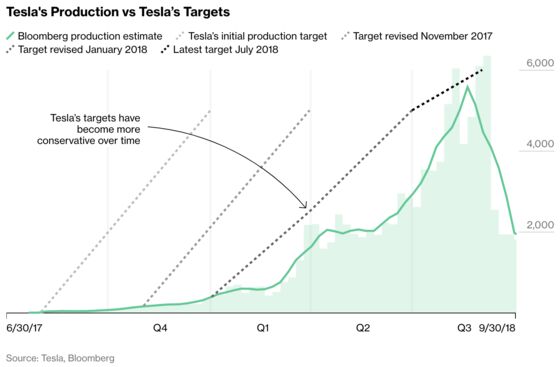 Reasons for Questioning This Quarter's Estimates
There's an unusual question mark in the data this quarter. One of the data sets Bloomberg uses for its estimates comes from the vehicle identification numbers that Tesla registers with U.S. safety regulators. After Tesla filed an unprecedented 29,609 registrations in the first two weeks of August, new registrations have essentially come to a halt. 
Goldman Sachs analyst David Tamberrino highlighted the drop-off in a note to investors and suggested that bottlenecks at Tesla's paint shop probably slowed down its assembly plant. He estimates total production of roughly 50,000 for the quarter. 

Bloomberg's model doesn't estimate deliveries, which in previous quarters have trailed production. On a call with investors in July, Musk said deliveries may exceed production for the quarter as Tesla works through a backlog of 11,166 cars reported as "in transit" at the end of the second quarter. A Bloomberg survey of analysts suggests Tesla will deliver about 50,733 Model 3s for the quarter.
Other projections point to a bigger delivery surge. A model maintained by members of the online forum Tesla Motors Club—which has achieved accuracy the last few quarters that's similar to the Bloomberg model—estimates 55,298 deliveries for the quarter. InsideEVs, which tracks electric vehicle production around the world, estimates more than 54,050 deliveries. 
The Push to Turn a Profit
Musk has said that Tesla will turn profitable and cash-flow positive in the third and fourth quarters. One way the company is seeking to do this is by focusing production efforts on more expensive versions the Model 3. Until the third quarter, the only version of the car that Tesla sold was a long-range version with a package of options that started at $49,000. In the third quarter, Tesla started selling pricier dual-motor (all-wheel-drive) versions of the sedan, including performance models that sell for as much as $81,000. 
The pricier versions appear to be selling well. Since Tesla began registering VINs to produce dual-motor cars, more than 70 percent of new registrations have been for dual-motor drivetrains, according to data compiled by Bloomberg. A crowdsourced survey of Model 3 buyers estimates that the average selling price increased 8.9 percent in the third quarter, to $60,366. 
Musk has expressed confidence, although that's hardly unusual. "We are very close to achieving profitability and proving the naysayers wrong," he wrote in an email to staff on Saturday.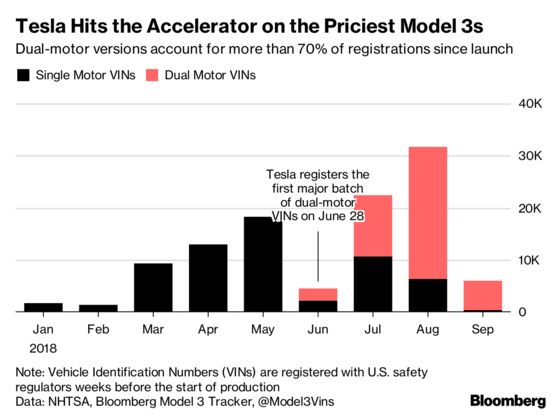 The proof will come at the end of October, when Tesla is expected to report earnings. The stock tumbled Friday after the SEC announced a lawsuit against Musk alleging that he mislead investors with a series of tweets that falsely implied that a deal to go private was all but assured. Musk settled the suit over the weekend, agreeing to step down as chairman, pay $40 million, add two new independent directors and implement controls to oversee his use of Twitter. 
What analysts are saying ahead of next week's delivery figures: 
RBC, Joseph Spak
(Sector perform, price target $315, Model 3 production estimate: 52,000, deliveries: 55,400)
"The quarter started off slow with some known downtime before likely peaking in mid-August at closer to about 5,000 per week. Checks indicate a slowdown to over 3,000 per week in early September, though we also believe there has been a recent uptick closer to about 4,000 per week in an end of quarter push."
Goldman Sachs, David Tamberrino
(Sell, price target $210, Model 3 production estimate: 50,000, deliveries: 52,000)
"For the Model 3, we see the company producing near the bottom end of its guidance of 50,000 to 55,000 in the quarter—and delivering slightly above this level given the approximately 11,200 Model 3 vehicles in transit at the end of second quarter."
"On the production front we note an implied slow down for the Model 3 based on VIN registration velocity—which is likely due to some of the reported issues with bottlenecks at the company's paint shop; as a result, we forecast a sustained weekly production rate of approximately 3,800 Model 3s per week for third quarter, below the 5,000/week exit rate achieved at the end of second quarter."
Cowen, Jeffrey Osborne
(Underperform, price target $200, Model 3 deliveries: 45,000)
"The company has learned the lesson the hard way that making cars is much harder than they had anticipated and find it hard to believe that 15 months into the ramp of the vehicle it can reverse the trends of losses to make the company profitable and cash flow positive in the September 2018 quarter."
"We see the company raising $2 billion in fourth quarter, through convertible debt."
Vertical Group, Gordon Johnson
(Sell, Model 3 production: 52,582)
"While many continue to focus on Tesla's Model 3 production output, and production constraints, we feel Tesla is nearing a demand crisis."
Consumer Edge, James Albertine
(Equalweight, price target $300, Model 3 production: 50,000, deliveries: 55,000)
"The brand is solid, production is ramping and we believe there is sufficient momentum for the company to go on growing and succeeding even with a modified management structure that spreads decision-making responsibilities more broadly."
"The ongoing, effectively self-inflicted public relations crisis is now affecting key personnel within the organization and detracting the market from the fundamentals."
Barclays 
(Model 3 production: 47,500, deliveries: 52,000)