Tesla Rallies as Canaccord Lifts Target to $515 on EV Growth
(Bloomberg) -- Tesla Inc.'s price target was raised by more than $100 at Canaccord Genuity, which wrote that the trend toward electric vehicles "will only accelerate in 2020."
The target was raised to $515 from $375, one of the highest on Wall Street and near the Street-high view of $530. The average price target is about $302, according to Bloomberg data.
The move comes ahead of Tesla reporting fourth-quarter delivery numbers. Canaccord analyst Jed Dorsheimer, who reiterated a buy rating on the stock, expects the data will validate the trend of higher electric-vehicle adoption.
"While bears have feared demand issues as a function of tax credit expiration for Tesla, we suspect a solid Q4 combined with the robust Q3 should put these fears to rest," he wrote to clients. He expects Tesla will report having delivered almost 369,000 vehicles for 2019, better than the low end of the company's guidance for at least 360,000.
Shares of Tesla rose as much as 2.3% in morning trading. The stock gained about 26% over the course of 2019 and recently surged to record levels.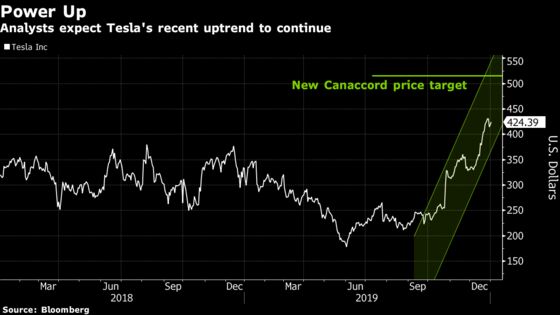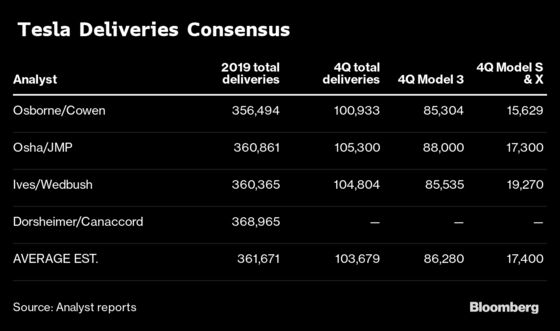 Canaccord was not the only firm to start the new year by expressing optimism about Tesla's 2020 delivery prospects. JMP Securities wrote that "unit consensus expectations for this year are oddly low." Analyst Joseph Osha speculated that the analysts aren't reflecting a contribution from Tesla's Shanghai facility in estimates. Separately, Wedbush last month wrote that data from China and Europe suggested demand had been strong.
However, not all analysts are feeling completely bullish. Cowen & Co. recently expressed some caution about vehicle deliveries, given demand levels for Tesla's Model 3.
"Excluding the Netherlands and China, we expect Model 3 deliveries to be down" compared with the prior quarter and year-ago period, analyst Jeffrey Osborne wrote Dec. 29. He cited "demand saturation" across most mature markets.