Tesla Options Suggest Post-Earnings Comeback From 2018 Losses
(Bloomberg) -- It's been a tough year for Tesla Inc. investors who have stuck with the company through a tumultuous 2018. Now the options market is signaling that stock holders could be back in the green after the electric carmaker's third-quarter earnings report.
The stock was down more than 6 percent year-to-date in late-morning trading ahead of Wednesday evening's report. It has swung wildly in 2018, up as much as 22 percent in August and down as much as 20 percent earlier this month, as the company struggled with production targets and Chief Executive Officer Elon Musk's erratic behavior.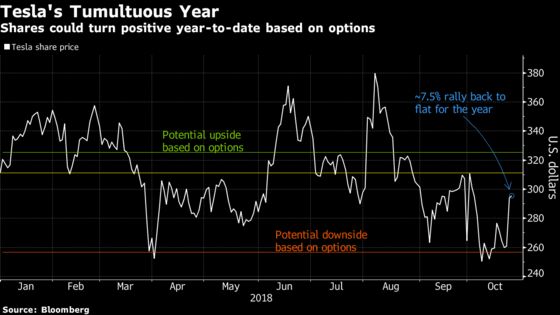 Based on the move implied by the options market, tomorrow could yield positive returns for shareholders who have stuck with the company through 2018. The near-term at the money straddle of the electric-car maker is currently pricing in a potential post-earnings move of 12 percent. Over the last eight quarters Tesla shares have moved 7 percent on average after earnings reports with sell-offs outnumbering rallies by 5 to 3.
Options expiring this Friday make up approximately 7 percent of total open interest, a relatively small proportion that may be a result of the company confirming its third-quarter release for today, about a week earlier than expected. Of those contracts, calls outweigh puts by about 17 percent, signaling slightly bullish sentiment into this afternoon's report. Current implied volatility is hovering around the 188 level, more than double the three month average of 72.