Teenage Stanford Dropouts Raise $60 Million for Grocery Startup
(Bloomberg) -- At 19, Aadit Palicha and Kaivalya Vohra already had plans to make it big in India. The long-time friends just weren't sure how, until they jumped on the global trend of instant grocery delivery.
Within months of launching their firm Zepto, the startup is now worth between $200 million and $300 million after receiving $60 million in an initial funding round, according to Palicha, co-founder and chief executive officer. Backers include Y Combinator, Glade Brook Capital, as well as angel investors Lachy Groom and Neeraj Arora, according to the firm.
Their firm promises to have aloo-pyaaz-dhania (potatoes, onions and fresh coriander) and hundreds of other essentials at a customer's door within 10 minutes in certain areas in Bangalore, Mumbai and Delhi. Groceries are quickly delivered from "dark stores" -- or micro-warehouses -- housed in different neighborhoods. The business aims to tap into the country's 800 million smartphone users as they adapt to video streaming, food ordering and online shopping.
"We're launching a new dark store every few days and we'll have a hundred in half-dozen cities by early 2022, each delivering a couple of thousand daily orders," said Palicha.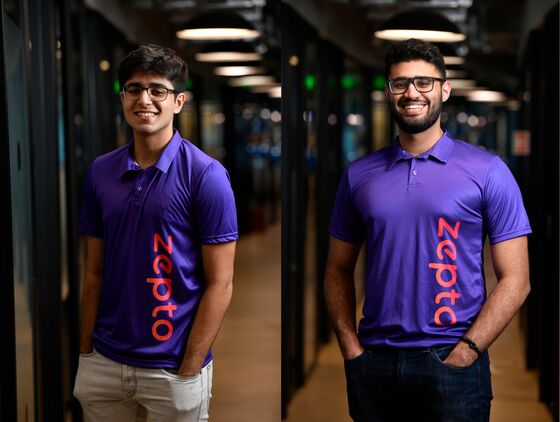 The company faces stiff competition. Zepto will be taking on larger rivals such as SoftBank Group Corp.-backed Grofers, Google-backed Dunzo and Swiggy while other startups such as Pickily are also crowding the scene. Grofers also promises 10-minute delivery times, while Dunzo pledges 19 minutes. In June, Swiggy closed a $1.25 billion funding round.
But Palicha is confident their company has momentum on its side.
"Well-funded startups like Swiggy and Grofers took seven years to build what we'll create in the next 18 months," he said.
Palicha and Vohra -- who have been friends since they were eight years old -- were living in Dubai last year when they were admitted to Stanford University's vaunted computer science engineering program. After attending online orientation they decided to head to Mumbai instead to be entrepreneurs, according to Palicha. 
Living and working from an 80 square foot (7.4 square meters) room, they zeroed in on grocery delivery. At first they considered using a software app to help neighborhood shops be more efficient at delivery, before concluding such a business would be hard to scale.  
They then decided to set up their own delivery service using dark stores, naming their new company Zepto after the minuscule unit of time. 
For months, they studied local rivals and looked for insights into the workings of global competitors such as Berlin-based Gorillas and Turkey's Getir. The firms are among a group of rapid grocery delivery services that's gained traction over the past year as people spent more time shopping at home during the pandemic. 
Palicha and Vohra picked out more than 2,000 different items for delivery such as mukwaas and paan, the traditional mouth freshener and after-meal digestive; cut flowers for daily worship rituals; as well as snacks and fresh food. Stores were laid out to ensure picking, packing and handover occurred within 90 seconds. The top 100 most-purchased items were placed near the entrance, Palicha said.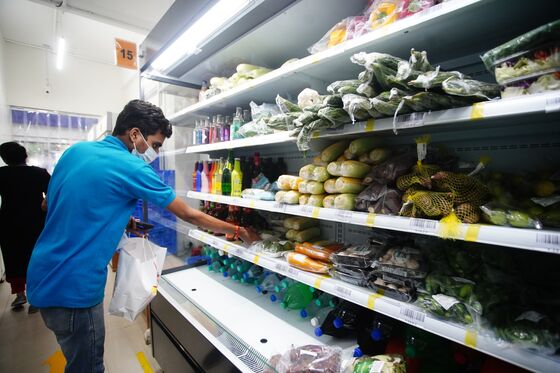 After launching earlier this year, Zepto's micro-warehouses pepper teeming neighborhoods such as Powai and Parel in Mumbai, and Indiranagar and Koramangala in Bangalore. Pickers load items into shopping bags that delivery riders hoist on to their two-wheelers before heading off to reach households within a two mile-radius.
"If the promise is 10 minutes, our customer gets a call in the 9th minute," said Vohra, the hoodie-sporting, bearded co-founder. According to him, Zepto's average delivery time is 8 minutes 40 seconds.
The next step is to expand in the current three cities, as well as launch operations in others such as Hyderabad, Pune, Kolkata and Chennai in the coming weeks, according to the firm. 
For Palicha, their relative youth is no handicap.  
"Grocery delivery is growing at 200% annual rates and 10-minute grocery delivery alone has the potential of breeding a couple of $10 billion dollar startups," he said. "If two 19-year-olds don't have the stamina to conquer this, who does?"
Stay Updated With
Tech News
On BloombergQuint