Tech Gets Crushed Again on Traders' Jitters Over So-So Earnings
(Bloomberg) -- Everyone knows rising interest rates have been walloping tech shares. A less-appreciated problem for the sector is the market's evolving profit picture.
Simply put, the group's specialness is diminishing when it comes to earnings. Income growth for mega-cap tech companies is forecast to fall below the broader market's rate into the end of the year, hurting their appeal, according to Gina Martin Adams, chief equity strategist at Bloomberg Intelligence. 
For the fourth-quarter earnings season, reports for which start coming out this week, tech is expected to post slower growth than the S&P 500 overall: 15% versus 20%, data compiled by Bloomberg Intelligence show.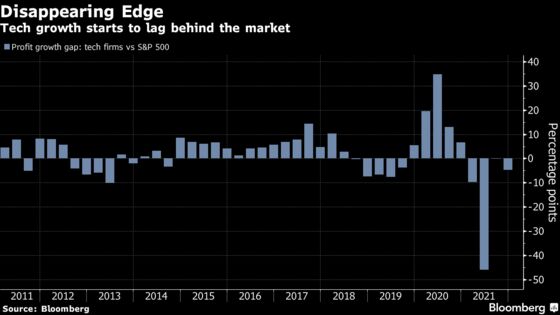 "The market has become a little bit more confident in growth prospects for everyone else outside of this space, and a little less confident that these providers are going to be the dominant providers in the marketplace," Martin Adams said in an interview for Bloomberg's "What Goes Up" podcast. Add to that higher interest rates and the sector's overbought readings and technology was "primed for some degree of correction."
Rising yields and expectations that the Federal Reserve will raise interest rates soon have sent the Nasdaq 100 down 5% since the year started. On Thursday, the index fell 2.6%, while the S&P 500 lost 1.4%. And the Dow Jones Industrial Average, stuffed with value firms, outperformed the tech-centric gauge by more than 2 percentage points in the session.
Selling in tech shares accelerated after the Nasdaq 100 undercut its 100-day moving average. The threshold, currently around 15,710, has repeatedly provided support since the bull market began in March 2020.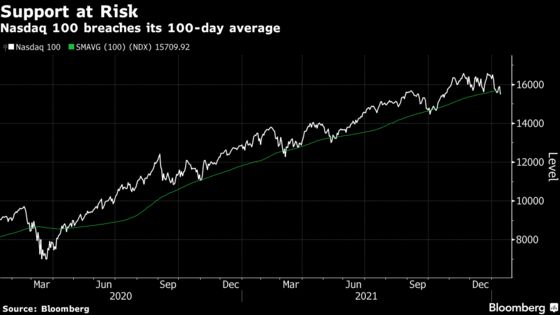 To Richard Bernstein, founder of Richard Bernstein Advisors LLC, the issue isn't that tech earnings will be awful, just less exceptional than they've been in the recent past. Software and internet stocks were the only game in town at the height of the pandemic. With the economy and inflation surging, a broader swath of industries is showing expanding profits.
"Growth investing requires a very bearish view of the future -- it says only a small universe of companies can grow and therefore I have to pay higher valuations for the scarcity of growth," Bernstein said in an interview on Bloomberg TV with Jonathan Ferro. "We don't think you need to hone in on a small universe of growth stocks to look for growth over the next several years."
As Fed hikes loom, investors are looking for higher-quality, higher-profitability stocks, said Kara Murphy, chief investment officer of Kestra Investment Management.
"Tech has a higher number of stocks that have higher valuations, have non-earnings producing names," compared to other sectors, she said. "So it makes sense that as the market looks for higher quality, that they would be rotating out of tech."
Stay Updated With
Tech News
On BloombergQuint