Surging Power Prices Are Brazil's Latest Inflation Villain
(Bloomberg) -- Brazil's inflation has been tame for the past couple years -- but lately it doesn't feel like that when your electricity bill arrives.
Electricity prices have been rising for five consecutive months and were the largest single contributor to inflation in three of them. In the month through mid-August, the IPCA-15 index rose 0.13 percent, but energy alone rose 3.59 percent. Headline inflation was 4.3 percent over the past 12 months, and power prices rose four times faster.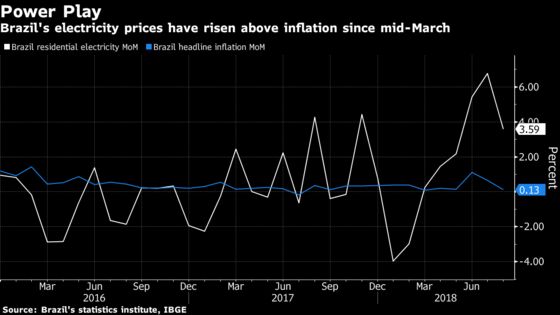 The five-month increase in electricity bills is the longest streak since 2015, when the government began unwinding regulated prices it had tamped down ahead of the previous election. This time the government has been authorizing power distributors to increase their baseline fares. Some of those companies, such as those owned by state-controlled Eletrobras, are in dire need of investment.
To read more, Fast Cash for Petrobras and Eletrobras Stalls Ahead of Elections
Also contributing to the jump in energy prices are the exceptional rates adopted when hydroelectric reservoirs are low and the grid authorizes use of thermoelectric power. A weakening real, one of the world's worst-performing currencies this year, also boosts rates for power generated by the massive Itaipu dam Brazil shares with Paraguay.