Startup Nation? Entrepreneurs Still Toil in Macron's France
(Bloomberg) -- For all President Emmanuel Macron's talk of making France a "startup nation," technology entrepreneur Christophe Sapet says he still has to deal with some of the same hurdles he faced starting out 35 years ago.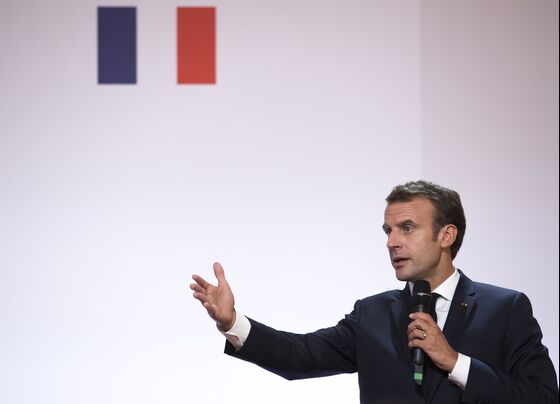 "We set up in France around the same time as our rivals were starting in the U.S., but quickly they were raising 100 times more from investors and selling across the country," Sapet said. "Meanwhile we were stuck translating into 20 European languages."
Sapet is alluding to Infogrames, the video-game maker he co-founded in 1983 when now-giant Electronic Arts Inc. was just being born. With his more recent venture -- driverless carmaker Navya SAS -- he faces similar obstacles on financing and a fragmented European market, highlighting the issues persistently holding back France's startups from becoming global champions.
As Paris hosts entrepreneurs at France Digitale Day today, the question of why the country can't churn out world-dominating technology companies will loom large. A number of factors -- from a scale-up mindset and culture to funding, smooth exit options, a tech-friendly stock exchange and harmonized Europe-wide regulations -- will need to coalesce for Macron's "startup nation" to not just be wishful thinking.
While much of what needs to happen is not state controlled, his team says it has plans to help entrepreneurs up their game. Many observers are skeptical.
"Is France really positioned to build, forget the next Google but even the next Spotify?" asked Peter Zemsky, dean of innovation at Insead business school. "That's still a real challenge for them. To really build digital businesses you need to be able to scale, which is much harder in Europe than in China or the U.S."
Multiple regulatory regimes and languages and inadequate capital still shackle French startups. That's not to say the ecosystem hasn't progressed. Macron's predecessors had set out to cash in on the country's strong engineering skills and history of innovation. With tax breaks and handouts by the likes of state-backed investor BpiFrance, they managed to grow venture capital while turning the spotlight to successful upstarts.
Innovative companies raised about 2 billion euros ($2.36 billion) in the first half this year in France, compared to 2.6 billion euros over 2017, data compiled by EY show. France is catching up to the U.K., the region's leader, which had 3 billion euros of venture capital and growth equity in the period.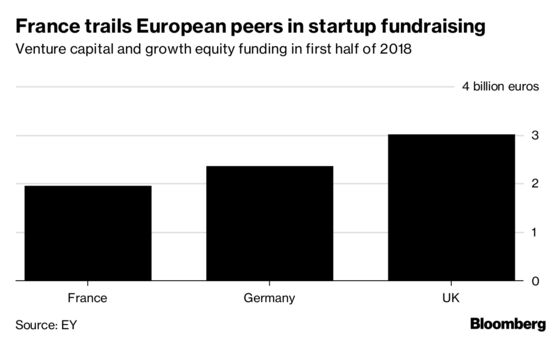 Macron burnished his tech-friendly credentials in his previous job as economy minister, attending events like the Las Vegas' Consumer Electronics Show to promote the vitality of the French startup ecosystem. Since becoming president last year, he's gathered top executives of U.S. tech giants like Facebook Inc.'s Mark Zuckerberg in Paris, visited a mega-campus for startups in the capital and often speaks of encouraging innovation. He plans to once again touch on startups in a speech on Oct. 9.
"The measures we have taken do take time, nothing takes effect right away," French Digital Minister Mounir Mahjoubi said in an interview. "When we started, there were nowhere near 10,000 startups. Today, we've reached a level where several will be able to hit the 20 million-euro ticket and in about a year's time several will get to a 100 million-euro ticket."
The minister said by 2020 the country expects to have some companies with 150 million euros to 200 million euros in funding.
"We want France to be the most attractive country for research, innovation and new technologies in Europe," Finance Minister Bruno Le Maire said today, speaking in English to entrepreneurs. What he doesn't want is for Europeans to flee to the U.S. to build their companies "because we have not been able in France or the Netherlands or Germany to create exactly the same attractiveness."
France will reduce taxes, including for people coming from overseas, Le Maire said. Also in the coming months, Macron is set to make the case to foreign investors that France will have in 2019 a big enough pool of "unicorns," or closely held startups valued at more than $1 billion, for them to invest in, according to a French official with knowledge of his plans.
But for all the cheer-leading, the country has had trouble shifting into the next gear, especially with expanding away from home. Ride-share company Blablacar's valuation was cut by an investor this year while Sigfox, a network for connected objects, keeps pushing back a potential stock market listing.
Others like Chauffeur Prive -- France's response to Uber-- YouTube wannabe Dailymotion, and Spotify rival Deezer have seen their founders exit or seek the capitalistic backing of bigger players.
Funding rounds beyond the 100 million-euro mark are still "extremely marginal" in France, EY concluded in a report this month. Video-game maker Voodoo SAS had the only one in the first half in a deal with Goldman Sachs. There were four transactions of more than 50 million euros, compared with 248 deals of less than 5 million euros. That kind of data has earned France the reputation of spawning a "forest of bonsai trees" but no giants.
"We have a lot of startups but unfortunately not enough scale-ups," said Jean-Baptiste Rudelle, founder of internet ad platform Criteo SA. "The problem is fundamentally cultural -- in Silicon Valley they've had global thinking for the past 70 years, while in France we've had mental barriers quite often in terms of approaching growth."
French startups need to take leaf out of the playbooks of their Nordic peers, who've managed to scale successfully, with champions including Spotify and Rovio. "They've managed to more quickly adopt the success factors invented in Silicon Valley," including opening ownership up to outside investors and employees quickly, Rudelle said.
Even the U.K., which is working through a messy Brexit process, has spawned a winner: Uber Technologies Inc. is in early talks to buy the country's food-delivery company Deliveroo for several billion dollars.
What France doesn't lack is a successful startup ambassador. Telecoms tycoon Xavier Niel over the years has become a symbol of entrepreneurship, amassing a fortune along the way thanks to his phone carrier Iliad SA. The 51-year-old last year put down 250 million euros to build a mega Paris startup campus, called Station F.
There are signs that some of the small ventures of today will eventually bloom into something much bigger. For instance, Amazon's dominance in the cloud business hasn't stopped Octave Klaba from building OVH Groupe SAS from Roubaix, in northern France. The data center company is expanding into the U.S. after getting 250 million euros from financial investors KKR and Towerbrook in 2016 and raising 400 million euros in debt last year.
Others like Sapet are learning to move around hurdles. After drawing 30 million euros from investors the year before, his driverless carmaker Navya was listed in Paris earlier this year to raise another 50 million euros. The company is challenging similar projects by behemoths General Motors Co. and Alphabet Inc. -- with only a fraction of their budgets. To help with scaling, it set up offices and a factory in the U.S.
"There's no magic recipe to boost the French startup scene, it just takes time," Sapet said. "In the mean time the size of the U.S. market and the tech leadership of that country mean there's no way around it."