Stanza Living Sees Rebound in India Managed-Accommodation Demand
(Bloomberg) -- Stanza Living, an Indian rental housing startup, is seeing a strong recovery in demand as pandemic curbs ease in Asia's third-largest economy.
The company, specializing in managed accommodation, is witnessing demand for its serviced rental housing cross the pre-Covid peak, its co-founder and Managing Director Anindya Dutta said in an interview to Bloomberg TV's Rishaad Salamat and Yvonne Man. Stanza is gaining market share, with the company already accounting for 60% of the organized managed living space in the country, Dutta said.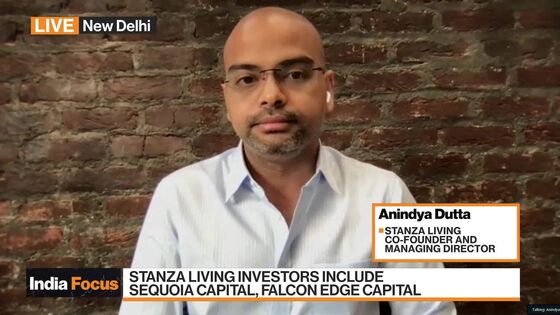 Stanza Living, whose parent DTwelve Spaces Pvt. is backed by investors including Sequoia Capital and Matrix Partners, has expanded its managed accommodation services beyond students and young working professionals and is targeting to add young families as tenants. The growth plans coincide with the economy's gradual recovery after the lifting of virus-related restrictions, including the reopening of schools and colleges.
"Historically we were solving living needs, now we are solving mobility needs, commerce needs on a forthcoming basis," Dutta said. In addition to providing accommodation, the company caters to the day-to-day needs of clients ranging from food and beverages to housekeeping, he said.
A 2019 report by RedSeer pegged the co-living opportunity in India at $12 billion, with the market crowded by other startups such as Nestaway, Oyo Living, Ziffy Homes, CoLive and Zolo.
Stay Updated With
Tech News
On BloombergQuint