SpaceX Moving Starship Test Work to Texas From L.A.
(Bloomberg) -- Elon Musk's SpaceX, which announced significant layoffs Friday, is moving the testing of its Starship prototype vehicle from the Port of Los Angeles to its site in south Texas.
In April, Los Angeles Mayor Eric Garcetti tweeted that Space Exploration Technologies Corp. was starting production development of the Big Falcon Rocket, now called Starship, at the Port of Los Angeles. SpaceX has said the new, larger vehicle -- designed to carry humans on quick hops across the world and eventually to Mars -- would need to be built near the water, given its size. SpaceX has a launch facility in Boca Chica, Texas, on the Gulf of Mexico coast near Brownsville. The Los Angeles Times first reported the news.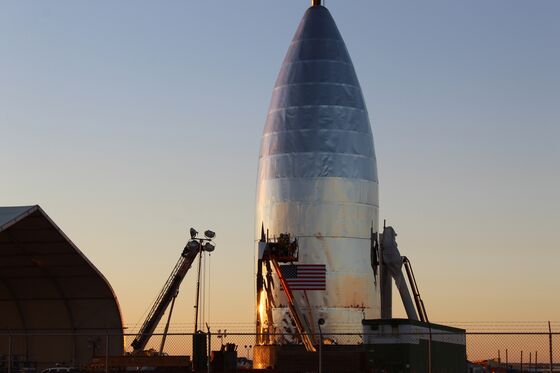 "To streamline operations, SpaceX is developing and will test the Starship test vehicle at our site in South Texas," spokeswoman Eva Behrend in an emailed statement. "This decision does not impact our current manufacture, design and launch operations in Hawthorne and Vandenberg Air Force Base in California. Additionally, SpaceX will continue recovery operations of our reusable Falcon rockets and Dragon spacecraft at the Port of Los Angeles."
On Wednesday afternoon, Musk took to Twitter to clarify the company's statement, saying it was "our miscommunication." He said the new vehicle will still be developed at the company's headquarters in Hawthorne, but the prototype will be built at the launch site in Texas.
SpaceX announced Friday that it's laying off about 10 percent of its workforce. A notice filed with the state of California detailed 577 positions being cut at the company's headquarters in Hawthorne.
"While we are disappointed that SpaceX will not be expanding their operations at the Port of Los Angeles, we are pleased that they will continue their recovery operations here," Phillip Sanfield, a port spokesman, said in a statement. "Our ongoing work with SpaceX and other advanced technology companies is important to our efforts to advance the port through innovation and new technologies."