Audit Dispute Sends Shares of Muddy Waters Target Into Tailspin
(Bloomberg) -- The disarray at Solutions 30 SE deepened as the European technology-services company, first targeted in 2019 by activist short seller Muddy Waters Capital LLC, said its auditor couldn't sign off on its 2020 accounts.
The company, which counts Telecom Italia SpA among its customers, saw much of its 1.1 billion-euro ($1.4 billion) market value wiped out Monday as the shares began trading again following a two-week halt. Luxembourg-based Solutions 30 published its own unaudited accounts over the weekend after Ernst & Young LLP said it hadn't been given the information necessary to perform the audit itself.
This "raises the prospect of sizable risks" for Solutions 30, "with possible consequences for its finances," Emmanuel Matot, an equity analyst at Oddo BHF in Lyon, France, wrote in a note, downgrading the stock to underperform from neutral.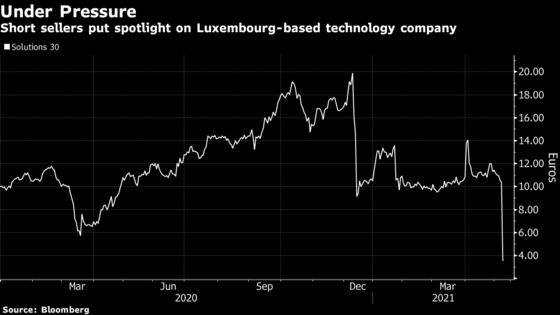 Muddy Waters' Carson Block began betting against the stock in May 2019 and unveiled a new report on Monday. A Romanian company that provides back-office support for Solutions 30 last month opened a lawsuit against Muddy Waters accusing it of anonymously alleging that Solutions 30 had multiple links to criminals and ties to money laundering. Other firms that have disclosed short positions against the company include Worldquant and Voleon Capital Management.
Ernst & Young has "not been able to obtain sufficient and appropriate evidence supporting the nature, the substance, the value and the compliance with laws and regulations of certain transactions of the group and to determine if these transactions were made with related parties including with members of management," according to a statement from Solutions 30 on Sunday. Solutions 30 said it "strongly disagrees with the rationale expressed" by the auditor.
"It's a ridiculous situation," said Eric Hassid, a trader at Aurel BCG in Paris. "It's not normal that an auditor won't pronounce itself: either they have doubts on the accounts and don't certify them, or they don't and then they need to certify the accounts."
The stock, which had been suspended since May 10, fell as much as 77% and was down 73% at 2.84 euros as of 1:27 p.m. in Paris on Monday. Exchange operator Euronext said it will continue monitoring Solutions 30 shares after trading resumed.
French market regulator AMF last week urged Solutions 30 to publish its audited 2020 accounts after failing to do so within the required timeframe, or at least to announce a timetable on when they would be available. The AMF declined to comment on Monday.
Short interest in Solutions 30 stands at about 13.6% of shares outstanding, according to data compiled by IHS Markit. Comgest and Swedbank Robur Fonder AB, two top investors, bolstered their shareholdings in December, days after Solutions 30 said an anonymous report was being circulated with false allegations against the company.
The firm has repeatedly denied any wrongdoing. It said last month an independent auditor had confirmed the allegations were unfounded.
The company said Friday it has started a selection process for investment bankers in order to look for reference shareholders. The company also reiterated it could go as far as delisting the shares.
Solutions 30 is a provider of services in areas such as telecommunications and energy, handling more than 60,000 service calls a day, according to its website. In France, it installs "Linky" smart meters on behalf of the utility Enedis, which track household energy consumption.