SoftBank's Underwriters Try Offbeat Campaign to Sell Mega IPO
(Bloomberg) -- SoftBank Group Corp.'s underwriters are embracing an unusual television marketing campaign to make sure that investors — especially individuals of all ages — will flock to what may be the country's biggest-ever initial public offering.
A 30-second television spot shows a multigenerational family with antennas on their heads. While eating breakfast, the appendages blink, alerting them to the 2.6 trillion yen ($23 billion) market debut of SoftBank's Japanese telecommunications business. The ad will run through Nov. 30, when the share price range will be set, people with knowledge of the matter said.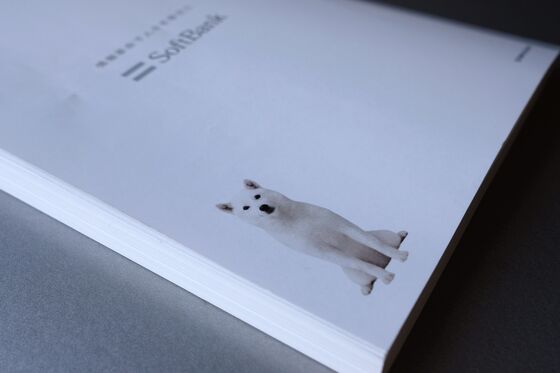 Founder Masayoshi Son needs the IPO to succeed so that he can push forward with his plan to transform SoftBank into a global technology investment company via the $100 billion Vision Fund. The sheer size of the listing is a challenge, given the fact that only 11 percent of Japan's total household assets of $16.3 trillion are held as stocks. The commercial shows that the underwriters are looking to attract new retail investors, said Kazumi Tanaka, an IPO analyst at DZH Financial Research Inc. in Tokyo.
"Attracting new customers is usually difficult, but the underwriters are taking advantage of SoftBank's well-known brand to attract new money and new accounts," Tanaka said. "This will also help support the shares after the IPO."
The commercials are a nod to SoftBank's eclectic spots for its wireless services. They usually feature a human family, except that the father is a Shiba dog that delivers a punchline. In order to comply with securities laws, the ads for the IPO are being paid for and run by the banks, and not the issuer, SoftBank.
While the commercials will air in Japan and appeal to retail investors, SoftBank's executives and global coordinators for the share sale will meet analysts and fund managers on their road show in the U.S., Europe, Asia and Japan this week and next, said the people, who asked not to be identified because the information isn't public. The face-to-face meetings and feedback from institutional investors will help determine the desired price range for the IPO. SoftBank gave an indicated price of 1,500 yen per share this week, which would value the telecommunications enterprise, to be called SoftBank Corp., at 7.2 trillion yen.
At that price, the IPO would surpass the offering of former national carrier Nippon Telegraph & Telephone Corp. in 1987. The goal is to bring in more investors in their 30s, while at the same time attracting those in their 60s who have a lot of assets, in order to get them to take more shares, said Tomohiro Suzuki, an IPO adviser at KPMG Azsa LLC.
"It's such a large fundraising that they have to really build the book to ensure that there aren't any unsold shares," Suzuki said. "By tapping into the SoftBank brand, they're aiming to raise awareness among individual stock investors, and even those who don't invest but are SoftBank customers."
Representatives of SoftBank and the lead underwriters declined to comment on the TV campaign and schedule for the roadshow.
SoftBank selected Nomura Holdings Inc., Goldman Sachs Group Inc., Deutsche Bank AG, Mizuho Financial Group Inc., JPMorgan Chase & Co. and Sumitomo Mitsui Financial Group Inc. as global coordinators.
"The roadshow will enable us to get information and a sense from the company directors, and it's is a significant opportunity to decide if we should invest or not," said Kazuyuki Terao, chief investment officer for the Japan arm of Allianz Global Investors. "The business is stable, and the yield seems to be high, which will attract a certain number of investors."