Snap Rallies After Trump Administration Considers Ban of TikTok
(Bloomberg) -- Snap Inc. shares jumped on Wednesday, after President Donald Trump said his administration was considering a ban of TikTok, the latest indication the U.S. government might take steps against the short-video app.
The app has become enormously popular, especially with younger users, and analysts said banning it could reduce the competitive risk it poses to other social-media platforms. Rosenblatt Securities wrote that peer companies may breathe "a big sigh of relief" in the event it gets banned.
Analyst Mark Zgutowicz wrote that while TikTok's ad platform "hasn't been too competitive given scale limitations, escalating time spent on the app has infringed on other Gen Z social platforms," notably Snapchat, Facebook's Instagram and YouTube, owned by Google-parent Alphabet Inc.
Snap climbed as much as 6.5% on Wednesday in its third straight daily advance. The stock is trading at its highest level in more than three years, having more than tripled off a March low. The rally has been fueled by a recent developer conference, where it announced a number of new products and features. Facebook rose 1.1% and Alphabet was 0.5% higher. Pinterest Inc. was up 3.3%.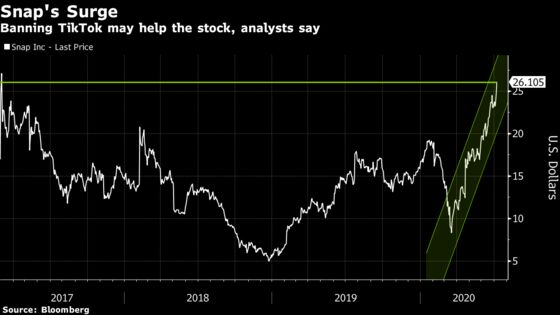 BofA also sees a tailwind for the Snapchat parent company if TikTok is banned, calling the rival app's popularity "one of the biggest investor concerns" about Snap. "A ban could reduce [the] TikTok overhang" on the shares, analyst Justin Post wrote, noting that when TikTok was banned in India, data subsequently showed a surge of Snapchat downloads in the country.
Last month, Lightshed Partners wrote that "anyone who competes for mobile time spent should be focused on the growing competitive threat posed by TikTok," adding that it posed "a rising threat to everyone in the space." In a silver lining, however, analyst Richard Greenfield noted that TikTok content could easily be shared outside the app, "fueling engaging content into platforms such as Instagram, Snapchat, Facebook and Twitter."
In January, Snap Chief Executive Officer Evan Spiegel called himself "a big fan" of TikTok, and said it could become bigger than Instagram.