Snap CFO's Exit Followed Request to Board for More Money
(Bloomberg) -- Snap Inc. Chief Financial Officer Tim Stone, whose resignation after just eight months in the job roiled the social-media company's share price, left after a dispute with management over pay.
Stone went around Chief Executive Officer Evan Spiegel to ask Snap's board directly for a significant raise, according to people with knowledge of the matter. The incident sparked tension between the two, resulting in Stone's departure. Stone also asked to be promoted into a chief operating officer-type role, after the departure of strategy chief Imran Khan at the end of last year, said the people, who asked not to be identified discussing internal matters. Spiegel instead hired two outsiders: Jeremi Gorman as chief business officer and Jared Grusd as chief strategy officer.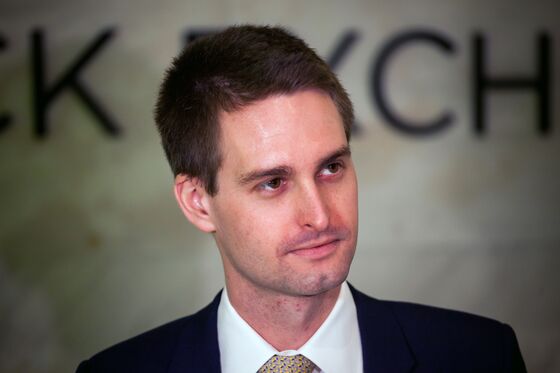 The executive's sudden departure, following several years of turmoil at the top of the company, adds to uncertainty surrounding Snap's future as it struggles to expand the user base for its Snapchat mobile photo-sharing app. Shares tumbled 14 percent on Wednesday, the steepest drop since May, bringing their decline to 58 percent for the past year.
Los Angeles-based Snap declined to comment, and Stone didn't immediately respond to a request for comment. The company said in a regulatory filing on Tuesday that Stone's exit was unrelated to any dispute with management, and the executive is staying on at Snap until a successor takes over. Cheddar earlier reported the outgoing CFO's interest in Khan's former role.
"After a disastrous year of post IPO missteps, we figured that much of the bad news was in the stock and that a new CFO coming from Amazon would quickly right the stock price, if not the operations," Moffettnathanson LLC analyst Michael Nathanson wrote in a note on Wednesday. "That hasn't exactly been the case."
When he was hired in May, Stone was given a salary of $500,000 a year, with additional restricted stock units worth $20 million plus 500,000 options to purchase shares of Class A common stock -- both set to vest over several years. The board rebuffed Stone's request, one of the people said, but would have had little power to assist him in salary disputes anyway, because Spiegel and co-founder Bobby Murphy hold the majority of voting control at Snap.