Snap Bear Slashes Long-Term Forecast on Continued User Declines
(Bloomberg) -- A Snap Inc. bear is getting more bearish.
Cowen analyst John Blackledge slashed his long-term forecast as well as his price target to $6 from $8, implying further downside of 12 percent to Monday's close.
"We anticipate continued softness due to user declines and continued pricing pressure from the switch to the programmatic auction," Blackledge said in an earnings preview note Tuesday. "Our proprietary U.S. survey data indicates SNAP's 3Q18 engagement declined moderately both y/y and q/q."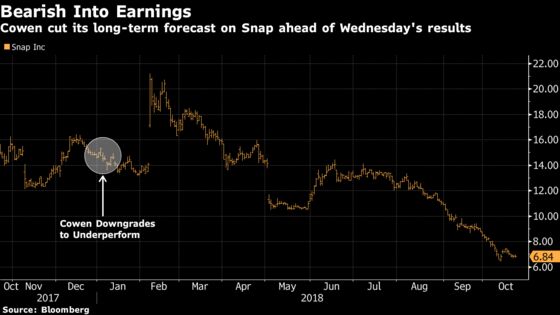 Blackledge now expects 235 million daily active users in 2023, or down from the prior estimate of 259 million.
Snap shares are down more than 55 percent since Blackledge downgraded the stock to an equivalent "sell" rating at the beginning of the year.
Snap reports third-quarter results Thursday after the close.