Silicon Valley and Publishers Fight on After EU Copyright Vote
(Bloomberg) -- European publishers have won a battle against Google and Facebook on copyright, but that doesn't mean the war is over.
European media companies including Axel Springer SE and Hubert Burda Media Holding, and the Silicon Valley giants have for years been entangled in a hot and cold relationship. They make deals and strike partnerships in some areas, then undermine each other in key policy debates.
"It always was and is today a classic example of a frenemy relationship," said Mathias Doepfner, chief executive officer of Springer, one of Europe's largest media houses, adding that while both industries share revenue streams, they have different strategic interests in some areas.
Despite the European Parliament's vote to grant publishers new legal rights, it's unclear to what extent the rules would save the publishers' bottom line, let alone dig into Alphabet Inc.'s Google and Facebook Inc.'s.
The new rules mean publishers could come gunning for more money from Google and Facebook for displaying small fragments of articles when they turn up in search results or are shared by users. The legislation still needs to be finalized with the European Union's two other institutions, the European Commission and the Council of EU member states. The council has broadly backed the proposal, which was issued by the commission in the first place.
Publishers have seen profits dwindle as more of their content has poured online without control. Meanwhile, Google and Facebook continue to amass steep profits through their advertising businesses. Media houses see those profits as partly and indirectly supported by their content as platforms collect data when people search for or come across news -- data they can then monetize through advertising.
"I don't think it will help" the publishers, said Francois Godard, a European media analyst at research firm Enders Analysis, referring to the new EU copyright rules. While it could promote the respect of copyright online in the long run, he said, it wouldn't help to shore up the publishing business in the short-term. "It's not where the problem is for them."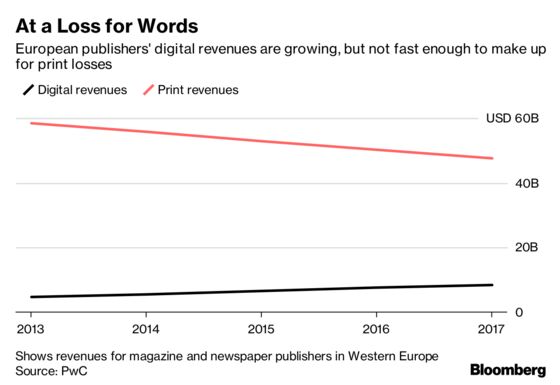 The publishers' beef with Silicon Valley only tells part of the story. Publishers are using tech platforms to extend their reach and open up fresh revenue streams. Google and Facebook have also recently launched new services in cooperation with publishers that allow users to subscribe to news outlets directly through the platforms.
"We want to work with publishers, not argue with them," said Google spokesman Al Verney. While Facebook spokeswoman Ana Gradinaru said the company strongly believes in the importance of online copyright laws, adding that in collaboration with right holders, it has developed "top IP tools for protecting and promoting their content."
Still, the publishers feel they remain at the mercy of Google and Facebook for both traffic to their websites as well as ad revenue. Google takes a 30 percent cut when publishers use its service to place ads on their sites.
"There is a dependency and that should worry us," Paul-Bernhard Kallen, chief executive officer of Hubert Burda Media, said on a panel with Doepfner at a Brussels conference in early September, ahead of the copyright vote. "Until we have achieved [independence from the platforms], we are not on safe ground - at least not from my perspective."
The publishers' new legal status under the EU copyright rules would finally give them leverage over the Silicon Valley firms, they argue.
However, publishers should instead focus on driving traffic to their own sites and on cultivating their relationships with their readers, said Godard.
A law in Germany, in effect since 2013 and similar to the EU's proposed copyright rules, generated publishers about 30,000 euros ($35,000) last year -- a meager return given related legal costs of more than 2.2 million euros. Google still hasn't paid any money to publishers based on the law and has been locked in a legal battle with them since 2014.
And in Spain, when a similar law was passed, Google simply pulled their news search service out of the country.
If the EU legislation passes, the tech firms could potentially sidestep the rules in a way that does more damage to publishers, especially smaller ones, than to the platforms themselves.
"I wouldn't be surprised if some platforms tried to curb their reliance on serving links as a way to eliminate costs," said Bloomberg Intelligence analyst Tamlin Bason. "Deindexing publisher content from search results or removing it from news feeds could cause traffic, and thus ad revenue [for publishers,] to crater."
The clash over copyright laws showed how hard sides were willing to fight. Both the publishers and the platforms, through their associations, waged bitter campaigns in their bid to secure their interests, in some cases accusing the other side of misleading the public.
So far, the policy clashes haven't completely cut off cooperation.
"It should never get on a personal level," said Doepfner, before adding that would only be the case if the platforms chose to ban them from any traffic or advertising whatsoever.