Scorching Hot Summer Is About to Hit Sweden's Inflation Figures
(Bloomberg) -- One of the hottest summers on record is drying out dams and driving up power prices in Sweden. And that's about to make itself felt in the inflation data that central bankers watch.
A region otherwise known for its cool climate is now experiencing Mediterranean heat, with temperatures in Stockholm hitting around 30 degrees Celsius (86 Fahrenheit) for days on end. Prices on Nasdaq Inc.'s power exchange have reached a seven-year high as the dry weather leaves less water to generate electricity.
The "exceptionally warm" weather is "causing critical drought and wildfires in Sweden," said Olle Holmgren, an analyst at SEB AB in Stockholm. "The most prominent effect on inflation is shown by the fact that low levels in water reserves push electricity prices higher."
Many Swedes just lived through their hottest May on record, while the country's Meteorological and Hydrological Institute is warning of "extremely high temperatures" and "an extreme" fire risk. The heat has sparked dozens of forest fires, forcing the timber industry to curb production.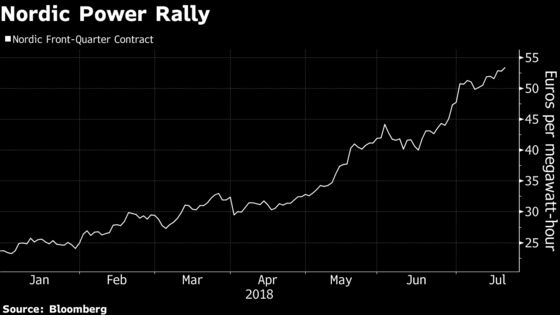 Holmgren says the development implies that inflation will remain above the Riksbank's 2 percent target into the beginning of 2019.
Policy makers at the Riksbank have been waiting for signs that inflation will stay around the target, after years of undershooting it. Sweden's benchmark repo rate has been below zero since early 2015 and the bank has had to resort to measures including quantitative easing in an effort to drive consumer prices higher.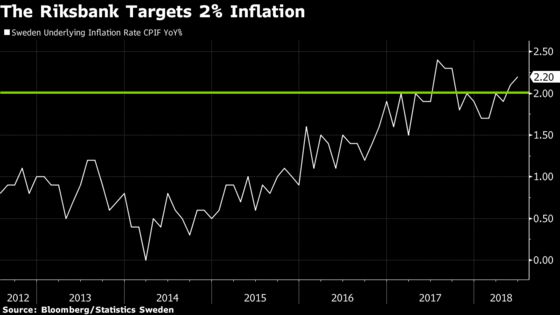 While the Riksbank has said it expects to start raising rates toward the end of 2018, it has also stressed that inflationary pressures are still moderate. At the same time, the bank's board is split on the timing of the first rate increase, with two of its six members calling for an earlier hike.
While the Riksbank focuses mainly on CPIF, it has increased its focus on an inflation gauge that excludes energy, given its volatility. It has nonetheless stressed that energy prices affect inflation. In its latest monetary policy report in early July, the Riksbank raised its inflation forecast "as a result of a more rapid rate of increase in energy prices and a weaker krona."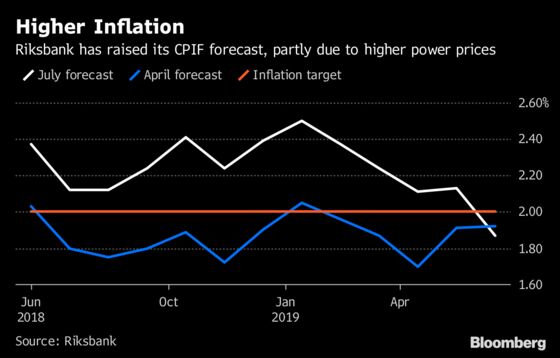 Water levels in Sweden's reservoirs, which provide about half of the country's electricity, have dropped to 63 percent of their average for this time of year compared with a long-term median of 74 percent. Benchmark power prices for next quarter have more than doubled this year.
The drought may also push food prices higher as the lack of rainfall hurt harvests and supply of animal feed. But Holmgren says food is more dependent on European weather, which hasn't been as exceptionally hot as in Sweden.
Meanwhile, some things may get cheaper because of the heat. Higher temperatures at home mean fewer Swedes will feel tempted to spend summer abroad, driving down the cost of travel.
Heatwave Fires Pose New Weather Risk for Nordic Forest Industry