Scooter-Rental Startup Skip Gets $100 Million in Debt
(Bloomberg) -- Skip Transport Inc., one of two companies that won licenses to rent scooters on the streets of San Francisco, received $100 million in debt and is seeking more funding from investors, said three people familiar with the matter.
While it explores an equity deal, Skip plans to use the debt on a project to design and build scooters that would be more resilient in harsh weather conditions, said one of the people, all of whom asked not to be identified because the information is private. Other scooter-rental startups have undertaken similar efforts. Skip declined to comment.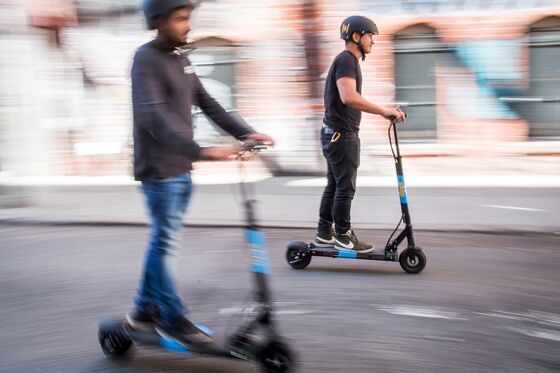 Skip may have an advantage in the hardware effort, thanks to its founders. The business was started by creators of Boosted Boards, a maker of electric skateboards in Silicon Valley. In August, Skip beat out Uber Technologies Inc., Lyft Inc. and the leading scooter companies for a license to operate in San Francisco. Skip also offers service in two other cities, according to its website. But it will struggle to catch up with larger companies, which cover more than 100 cities.
Scooter businesses have exploded in the past year. They allow people to locate electric scooters lying idle on nearby city sidewalks using an app and rent them for short rides. But as winter conditions hit, investors are wondering whether scooter mania will translate into a sustainable business.
Lime and Bird Rides Inc., the largest scooter-rental companies, each have raised hundreds of millions of dollars and garnered valuations of at least $1 billion. Both companies have been trying to raise more money in recent months, but no such deals have been disclosed so far. Lime and Bird have engaged in discussions with Uber for a potential acquisition, a person familiar with the matter said. Bird said in an emailed statement that it's not for sale.
Skip, which has raised raised a comparatively paltry $31 million in equity to date, has attracted some elite Silicon Valley investors, including Accel, Uber backer Menlo Ventures and Reddit Inc. co-founder Alexis Ohanian's Intialized Capital. The people familiar with the fundraising efforts declined to say who provided the debt or who might lead a possible investment.