Russian News Outlet Says It Was Hit by U.S. Military Cyberattack
(Bloomberg) -- A Russian media outlet said it was the target of an alleged cyberattack by the U.S. military that "failed completely" to disrupt operations.
The Federal News Agency, or FAN, which the U.S. says is linked to indicted Russian oligarch Yevgeny Prigozhin, said in a website statement that the "unprofessional" attack was focused on its English-language media project called USA Really.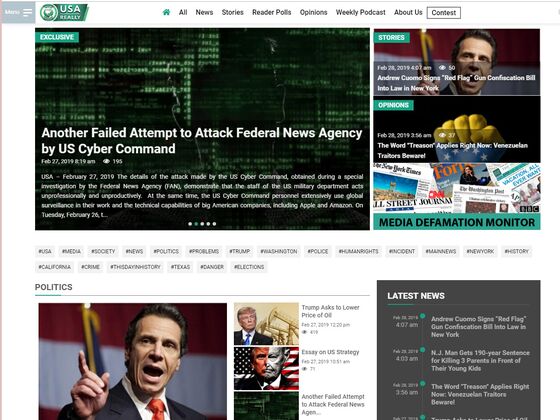 It issued the comment after the Washington Post reported Tuesday that U.S. Cyber Command had blocked access to the Internet Research Agency, a renowned Russian "troll factory" in St. Petersburg that American officials say conducted a campaign of online interference in the U.S. political system including during the 2016 presidential elections. FAN denies connections with the IRA, though it acknowledges they operated out of the same building from 2014 to 2015.
The U.S. accuses Prighozin, who's known as "Putin's chef" for his Kremlin catering contracts, of controlling the IRA, which he denies. Special Counsel Robert Mueller indicted Prigozhin and the troll factory last year, alleging a vast scheme to interfere with the campaign in order to help Donald Trump win the elections, while the Treasury sanctioned both the Russian businessman and the IRA.
FAN, which is also headquartered in St. Petersburg, said the U.S. struck its computer servers on Feb. 5, and not those of the Internet Research Agency. Two of four hard drives at its office were disabled as well as a RAID controller that optimises the drivers' operations. Hard drives in Estonia and Sweden that are used to store data from the USA Really portal were also attacked, it said.