Rural U.S. Spends More of its Paychecks on Power Than City Dwellers
(Bloomberg) -- Rural consumers in the U.S. are spending more of their paychecks on energy than city dwellers, the result of inefficient homes and policies that favor metropolitan areas.
Rural households have a median energy burden of 4.4 percent -- the percentage of income spent on bills such as lighting, air conditioning, heating and appliances -- according to a report Wednesday from the American Council for an Energy-Efficient Economy and Energy Efficiency for All. In some areas, it can reach 15 percent, well above the 3.1 percent burden in metropolitan areas, and the national figure of 3.3 percent.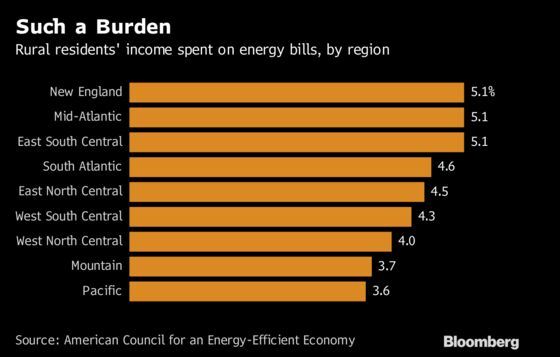 One reason for the difference is that homes in cities are often more energy efficient, according to Lauren Ross, lead author of the report and local policy program director at ACEEE. Also, rural residents may have lower incomes, which both increases their energy burden and can make it more difficult for them to invest in upgrades like air sealing and better insulation. Utilities in cities are also more likely to offer efficiency incentive programs.
"There's just a lack of those programs in rural areas," Ross said in an interview. "And a lack of investment in the housing stock."
Rural residents who are elderly, nonwhite and renters tend to have higher burdens, along with people in multifamily and manufactured homes. Rural areas in New England, the Mid-Atlantic and parts of the South have the highest energy burdens, all at 5.1 percent.