Renault to Expand Car Sharing on Post-Lockdown Demand Burst
(Bloomberg) -- Renault SA is preparing to take its Paris and Madrid car-sharing service to another major European city amid a boom in demand for vehicle rentals as travel restrictions are eased.
"It's restarting very, very well," Clotilde Delbos, deputy chief executive officer, said in an interview Wednesday. "As soon as a lockdown lifts, there is a burst of activity."
The Zity car-sharing service -- also backed by Spanish construction company Ferrovial SA -- counts roughly 435,000 customers in the French and Spanish capitals and is the most visible part of Renault's bet on the future of shared mobility. Chief Executive Officer Luca de Meo is counting on the so-called Mobilize brand to bring in more than a fifth of the company's annual revenue by the end of the decade.
Renault is considering offering Mobilize services in Morocco, Russia and Turkey as well as China, Delbos said, declining to name the additional city its car-sharing service will start up in. Aside from vehicle sharing, the Mobilize brand runs the gamut from charging and energy storage to batteries and car recycling.
"Three years after buying a car, it's lost half its value," said Delbos, who heads up the unit as well as finance. Mobilize will be "militant" about a more sustainable business model than the current one where cars are used on average 10% of the time.
The push for new business comes as Renault struggles with a reliance on Europe and fierce competition in its mainstay of mass-market vehicles. Nearly a year after taking the helm, De Meo is under pressure to make good on targets to improve margins, cut costs and a pruning of the workforce.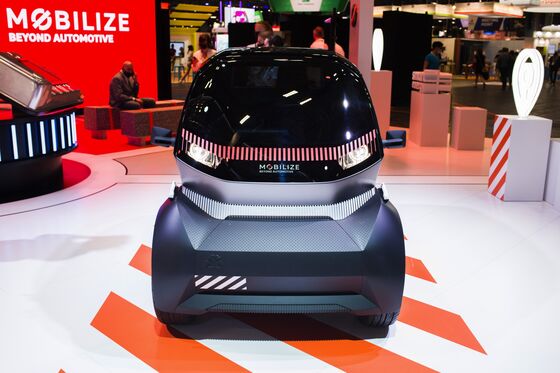 On Wednesday, Renault unveiled two concept vehicles that will partly make up a new EV lineup developed by Mobilize and available only for sharing starting in 2023.
The smallest Duo model is a two-seater that looks like a closed-version of its decade-old electric Twizy that failed to take off. Bento and Hippo are bigger EVs meant for more cargo and last-mile delivery. The company will target postal services, artisans and online retailers as customers, Delbos said.