Renault, Plug Power Form Venture for Hydrogen Delivery Vans
(Bloomberg) -- Plug Power Inc. and Renault SA are forming a joint venture to build hydrogen-fueled delivery vans in Europe as the century-old automaker bets the gas will play a key role in the future of clean transportation.
The companies will offer both the vehicles and the hydrogen-fueling stations to supply them, according to a statement Tuesday. They aim to start production by early 2022, building tens of thousands of light-duty commercial vehicles annually by 2030. Financial details were not disclosed.
Plug shares surged as much as 18%.
"We've got the vehicles, we've got the service, we've got the stations -- everything you need to be successful," Plug Chief Executive Officer Andy Marsh said in an interview.
It's the latest blockbuster deal for Plug, a Latham, New York-based company that's spent 20 years struggling to turn a profit as it hunts for a niche for hydrogen fuel cells that can produce electricity without greenhouse gas emissions. Now, as interest in hydrogen surges, investors are flocking to the company. Its shares have jumped more than 800% since June.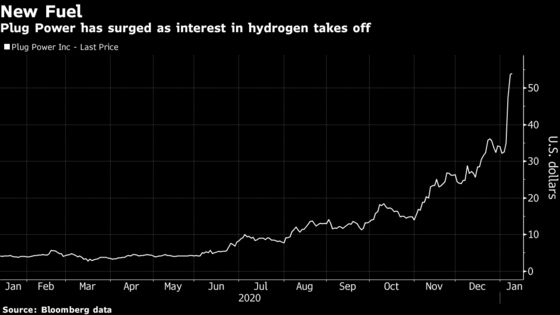 Last week, Plug announced a $1.5 billion investment from South Korea's SK Group to promote the technology across Asia. Plug's fuel cells generate electricity through an electro-chemical process rather than combustion.
Both deals follow Plug's decision last year to jump into the business of producing and distributing hydrogen, rather than simply using it in the company's fuel cells. Plug bought two companies in June that gave it the ability to generate the fuel from water and distribute it to customers.
Gilles Le Borgne, Renault's executive vice president of engineering, said Plug's ability to offer not just fuel cells but the refueling technology was key to the automaker, which has already explored using fuel cells in light commercial vehicles.
"It's full end-to-end services they can offer," he said in an interview. "That's very important to us."
Although Renault already offers battery-powered electric cars and vans, the joint venture will target a class of commercial vehicle for which hydrogen fuel cells may make more sense, Le Borgne and Marsh said. Such vans can carry 4 to 5 tons of cargo and would need a large, heavy battery pack, which would take time to recharge. Commercial fleets running on hydrogen can easily be refueled from centralized stations.
The joint venture may at some point expand to taxi fleets, but that isn't the target right now, executives said.
"There isn't going to be one technology that exists in the electric vehicles space," Marsh said. "There's a space for pure battery electric EVs, and there's going to be a space for hydrogen."