Qualcomm Analysts Urge Investors With 'Mettle' to Buy the Dip
Despite the outlook, analysts were broadly positive on the company, particularly in the wake of a recent legal settlement with Apple Inc. The analysts see long-term potential from that settlement, as well as from growth in 5G technology.
BofAML and Raymond James both upgraded the stock, while at least four firms raised their price targets and multiple analysts suggested using any weakness as an opportunity to add to positions. As Morgan Stanley put it, owning the stock "has always required a bit more mettle" than other companies, but at current levels, "ownership is merited."
Shares gained as much as 3.1 percent, erasing a pre-market decline.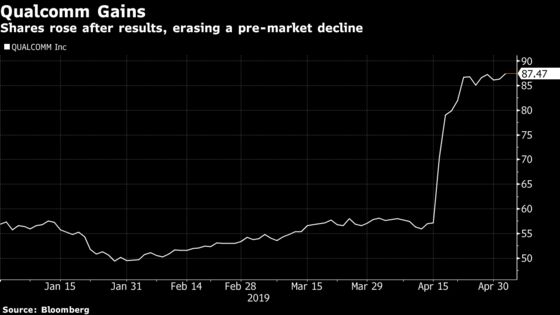 Here's what analysts are saying about the results:
The third-quarter outlook "marks a trough ahead of a 5G handset cycle which should catalyze growth." The current weakness "is transitory, as the smartphone industry is between cellular cycles, which is driving longer replacement cycles."
Upgraded to buy from neutral. Price target raised to $105 from $90. Says any weakness in the stock could present an opportunity for investors.
Morgan Stanley, James E Faucette
Blames weakness on Huawei, which "is really the only growing handset [original equipment manufacturer]." By "virtue of using primarily chipsets from its wholly-owned subsidiary HiSilicon, and not paying full royalties, it is hurting Qualcomm's ability to show as much immediate benefit as some might have imagined" from the Apple settlement.
"Owning QCOM has always required a bit more mettle than some others: political and legal risk tend to factor much more prominently than for most other names. But we think that at current levels, ownership is merited."
Overweight rating, $95 price target.
Mizuho Securities, Vijay Rakesh
Near-term catalysts are limited, but Qualcomm "remains an under-owned turnaround story."
It is "well-positioned for 5G and AAPL ramps in 2020."
Rated buy, price target to $90 from $82.
Rosenblatt Securities, Jun Zhang
The outlook wasn't surprising as "Qualcomm will face short-term pressure with Huawei taking market share from other Android smartphones." While Qualcomm's 5G story "needs patience," any weakness in the stock creates a "good opportunity to build or add to an existing position."
"We have a feeling that investors caught up in the recent euphoria likely were not expecting yet another guide down (weak market or not) especially with AAPL back in numbers."
"Overall market weakness is offsetting near- to medium term upside from the recent AAPL settlement, with material upside likely a 2021 story."
Rated market perform. Price target to $85 from $60, although most of the raise "is adjusting for market multiple" and for the Apple settlement.
Raymond James, Chris Caso
"While we had already been positive on the stock ahead of the settlement due to what we believed was the company's intrinsic value, our upgrade reflects greater confidence that the mechanism is now in place to unlock that value, after the Apple settlement and ahead of the 5G cycle."
Upgraded to strong buy from outperform. Price target to $115 from $85.

What Bloomberg Intelligence Says

"While the recent Apple settlement removes the biggest overhang on its stock ahead of the 5G ramp, smartphone weakness could linger."

--Anand Srinivasan, semiconductor analyst
Click here for the research