Power-Starved Zimbabwe, Zambia Face Further Drought-Induced Blackouts
(Bloomberg) -- The Kariba dam that straddles Zambia and Zimbabwe, the world's biggest man-made reservoir, is emptying fast, sparking fears the countries may have to cut hydropower production there completely.
For the two southern African nations already suffering daily blackouts and growing economic pressures -- Zimbabwe's inflation rate surged to 176% in June, while the International Monetary Fund at the weekend warned Zambia could be on the brink of a debt crisis -- a total shutdown at Kariba would be crippling. Zambia gets about a third of its supply from the dam, Zimbabwe almost half.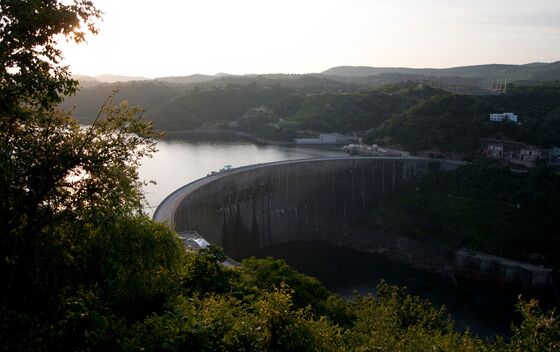 A severe regional drought has cut water levels at Kariba to 23% of capacity this month from 85% a year ago, prompting the two nations to trim output. Zimbabwe has curbed generation to 180 megawatts from an installed capacity of 1,050 megawatts. It may have to suspend production altogether by the end of September, Bernard Chizengeya, the commercial director at Zimbabwe Power Co. told reporters Monday in Harare.
Zambia is more optimistic. The country has enough allocated water to continue feeding its turbines at a reduced rate until the year-end, according to Energy Minister Mathew Nkhuwa. "So if by the end of December, we don't get enough rains, then that's when we can think of having the problem of shutting down the generation," he said by phone.
Regional rains that replenish the reservoir usually start around October or November, but have been arriving later. For much of the Zambezi river basin that feeds Kariba they barely came at all in the past season. River levels at Chavuma, near Zambia's border with Angola, are similar to 1996, which was the worst year in half a century of records.
The drought has also hampered food production in Zambia and Zimbabwe, fueling inflation. In Zambia, output of the regional staple corn fell 17% to the lowest level in a decade. In Zimbabwe, the government last week distributed almost 190,000 metric tons of maize to households in rural and urban areas, marking the first time ever it's had to distribute food to people in cities.
There is good reason for Chizengeya to fear a total shutdown at Kariba. During the drought of 2015-16, water levels were about a meter (3 feet) higher at this time of the year, and the dam bottomed out at 11% before rains refilled it. If higher temperatures this year cause more rapid evaporation and rains are delayed, the risks rise. Even so, at its trough in 2016, Kariba was still more than a meter above the minimum operating level, when turbines have to be switched off.