Power Prices Surge as Arctic Blast Brings Snow to Europe
(Bloomberg) -- Short-term power prices surged in Europe, hitting the second-highest level on record in Germany, as arctic air moved in bringing snow and sub-zero temperatures across the central-west region.
Day-ahead power prices jumped in Germany, France and the Netherlands with temperatures falling as low as -6 degrees Celsius (21 degrees Fahrenheit) in eastern France, according to state forecaster Meteo France. Snow is expected in the south and northeast of Germany, DWD said on twitter.
Colder weather is lifting demand just as the forecast for wind-power generation is set to plunge in France, Germany and the Netherlands. The cold snap is the first test of how energy systems already under strain will cope with higher consumption this winter. Restricted supplies of natural gas and low storage levels have led to a rally in prices that has caused chaos in energy markets across Europe.
The forecast through early December shows colder-than-normal temperatures across western Europe, according to Maxar Technologies LLC. Any mild air is focused in southeast Europe. The heating degree day outlook for the whole continent through December 7 is 215.3, above the 10-year normal of 190, according to a Maxar report.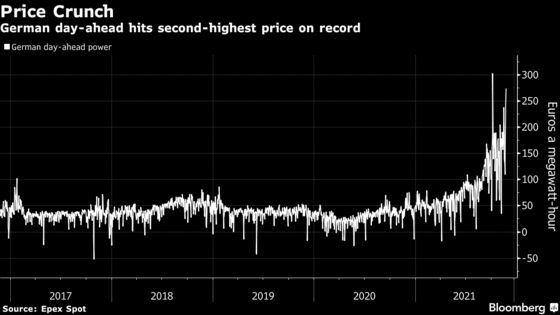 "Wind generation and temperatures below the seasonal norm are increasing gas-for-power and heating demand; this provides bullish pressure to day-ahead contract," Inspired Energy said in a report.
Stay Updated With
Tech News
On BloombergQuint