Solar Energy Boom Gains Momentum In Europe's Coal Heartland 
After growing more than six-fold over the last two years, Poland's solar energy market is only getting started as European climate goals force the country to speed up its exit from coal, a leading photovoltaic developer said.
Photovoltaic power is set to dominate the country's energy mix by 2040, according to the government's prediction that sees the capacity growing to as much as 16 gigawatt by then from 2.5 gigawatt now.
As ambitious as this goal appears, Poland's target is "extremely conservative" and could be achieved 10 years earlier than envisaged, according to Deividas Varabauskas, the chief executive officer of Lithuania-based Sun Investment Group.
Varabauskas said Poland's PV market has potential for robust growth over the next two decades or longer as the expanding economy requires more energy at the same time as coal is phased out. Furthermore, solar projects are seeing increased interest from state-run power groups, which seek to transform themselves away from the dirty fossil fuel.
"Big Polish utilities are becoming likely buyers now," he said in a phone interview. "We could become partners. They are the established players in the old energy world and we're kind of the guys from the future."
This year, Poland overtook France to become the fourth-largest solar market in Europe, after Germany, the Netherlands, and Spain, according to Bloomberg New Energy Finance. As the coal-reliant nation fell even more behind the bloc's climate push over the last five years, it's now making a U-turn in its clean energy effort, promoting photovoltaic, wind and biogas capacity. The share of coal is set to drop to just 11% in 2040 from 70% now, the government predicts.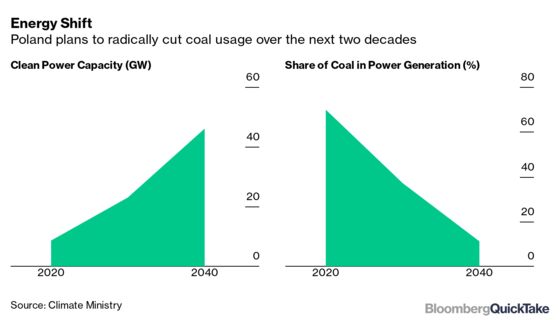 Sun Investment Group is one of the beneficiaries of the solar boom. Its headcount rose about five times since 2018 to around 100 people, with operations in Italy and Spain. Its project pipeline in Poland stands at about 800 megawatts and the company has just carried out the biggest solar transaction in central Europe this year, selling 170 megawatts of projects to AB Ignitis Grupe.
Solar Power 'Gold Rush' Heads to EU's Last Big Untapped Market
With the "massive change of heart" by banks toward PV financing in Poland that happened over the last two years, the company expects that as much as 400 megawatts of its projects could be commissioned by the end of 2022. The EU policy toward coal and rising cost of burning fossil fuels will also be a boon for renewables.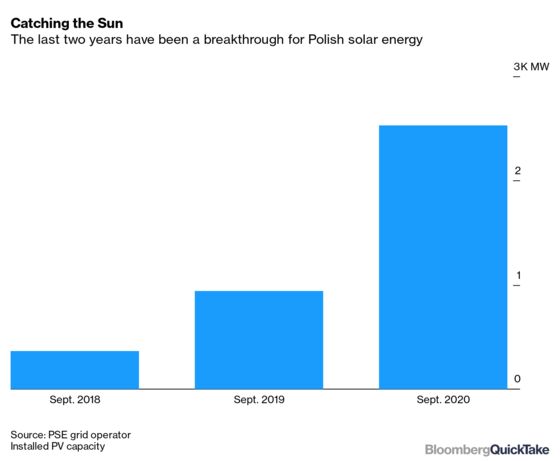 There are still some risks. Poland's current power grid, designed to handle flows from a handful of centralized plants, requires timely investments to avoid hampering the development of renewable energy sources, the CEO warns.
To speed the growth of cleaner energy, Poland plans to auction 27.4 billion zloty ($7.2 billion) in subsidies this year, which may add 1 gigawatt of wind and 800 megawatt of solar power, and the support mechanism is set to continue through 2026. A growing popularity of power purchase agreements with corporate clients will slowly replace the auction system, according to Sun Investment.
"At a certain point, the market will just say: it makes no sense for us to keep running on fossil fuels," Varabauskas said.