Panasonic's Tesla Ties Bolstered by New Battery, Strong Demand
(Bloomberg) -- Panasonic Corp. is working to meet "next-level" demand from Tesla Inc. and develop an advanced battery for the automaker, moves that will fuel deeper business ties between the companies, Panasonic Energy's President Kazuo Tadanobu said.
Tesla announced earlier this month that it delivered a record number of cars worldwide in the most recent quarter and is looking to shift to cheaper lithium-iron-phosphate batteries globally for its standard-range vehicles. That's a chemistry supplied to Tesla by China supplier and Panasonic rival Contemporary Amperex Technology Co. 
Given the demand resulting from Tesla's "extremely strong" shipment numbers, the automaker's decision to shift to LFP batteries won't have an impact on demand for Panasonic's existing batteries, Tadanobu said in a group interview Monday.
Tadanobu also showed off a prototype of the next-generation 4680 battery Panasonic is working to develop for Tesla. Championed by Tesla Chief Executive Officer Elon Musk as a "massive breakthrough" that will drive down the cost of electric vehicles, the more voluminous 4680 cells have five times the capacity of the smaller 1865 and 2170 cells that Panasonic currently supplies to Tesla. The new batteries are named after their dimensions of a 46-millimeter across and 80-millimeter high.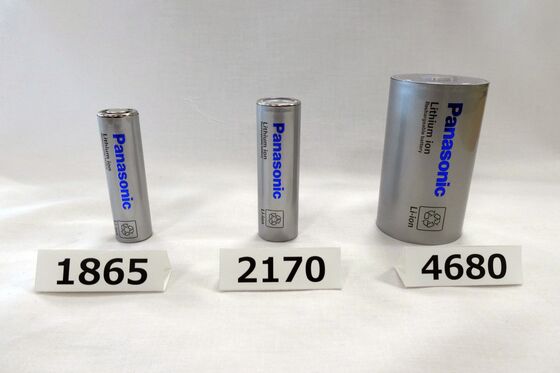 The 4680 cells have the potential to significantly lower the per-vehicle cost of batteries, but they're also difficult to produce, according to Panasonic, which is working to set up a prototype production line for the cells by the end of the current fiscal year in March. 
The cells are "almost finished in terms of technology" but the manufacturer is still trying to determine whether it will move forward with mass production, Tadanobu said Monday. 
Panasonic has said in the past that it would seek to sell batteries like the 4680 to automakers other than just Tesla. 
As the EV market expands, "we're not denying opportunities and we're considering a number of possibilities," Tadanobu said. "But Tesla remains at the center of our operations so any allocation of resources would have to happen in a way that doesn't interfere with what we have to do there."
Stay Updated With
Tech News
On BloombergQuint