Oracle's Need for 'Steep' Sales Climb Leaves Street Cautious
(Bloomberg) -- Oracle Corp. slumped Friday after the company's quarterly sales trailed expectations. Analysts say forecasts suggest a sharp growth acceleration in the fiscal fourth quarter is needed to meet the company's year-end target.
The culprit for the consolidated sales miss was a shortfall in license revenue brought on by continued effects of a sales reorganziation earlier this year, as well as "price discipline," according to RBC's Alex Zukin and other sell-side analysts.
Fourth-quarter fiscal 2020 faces the most difficult year-ago comparison (4% growth in constant currency) since the company's second quarter of fiscal 2018. And the environment is tough, Deutsche Bank added.
Shares of Oracle fell as much as 3.5%, the biggest intraday decline since Sept. 12. The stock has gained 22% year to date, underperforming both the S&P 500 and its large-cap tech peers.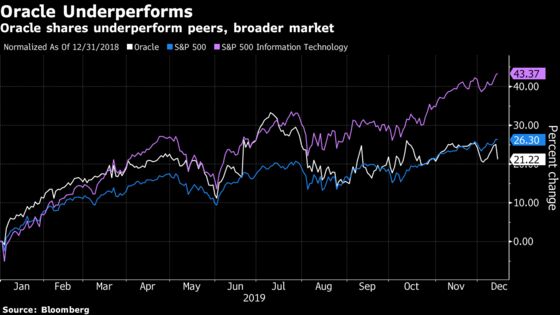 Here's more of what analysts said following the report:
Raymond James, Michael Turits
"The company evinced confidence in second half momentum, which it expects to carry into F21 around back office applications (HCM/ERP), cloud @ customer deployments, new versions of Autonomous Database, and diminishing headwinds from data cloud decline"
Management also indicated that the second half benefits from transactional (license/hardware) business
Turits believes that for Oracle to see fiscal 2020 constant-currency acceleration following the "slight" misses in the second-quarter actual sales figure and the third-quarter forecast "would mean an extremely steep back half ramp"
Given the current set up, the analyst believes that fiscal 2020 revenue growth will decelerate to 2.2% on a constant-currency basis

Estimates 2.9% growth for next year, "as the drivers above continue to play out"

Rates outperform
What Bloomberg Intelligence says:
"While management commentary about the increased use of Oracle's new autonomous database product is encouraging with 2,000 new customers and triple-digit growth, weak total license sales shows that clients are taking time to spend more on other new products," wrote analyst Anurag Rana.

Rana doesn't see this trend changing in the near-term given weakening global macroeconomic conditions that "could even hurt cloud applications sales."
"We attribute the miss to database license headwinds from a first-quarter tech sales reorg -- which separated cloud and premise sales and likely resulted in smaller deal sizes -- and declining sales of vertical applications licenses"
Management was upbeat on prospects for the second half, as large autonomous database transactions get recognized this fiscal year and cloud database velocity picks up, Koenig said

Noted

"longer term, these prospects seem promising, but we suspect that any uptick in FY20 year-end tech segment performance would be mostly seasonality (much like in FY19), and a secular upturn in ORCL's tech segment is likely many more quarters in the offing"

The analyst is "more convinced" of Oracle' progress in cloud applications than cloud infrastructure
Maintains neutral rating, as he looks for "meaningful progress" in rebooting database growth on a more sustained basis; price target $56 from $55
Deutsche Bank, Karl Keirstead
The third-quarter forecast for just 1% to 3% constant-currency sales growth implies "a huge growth acceleration" in the fourth quarter "against a very tough compare and in a tougher environment" in order for the full-year to reach Oracle's forecast
Keirstead remains "skeptical about any sustainable growth acceleration"
Rates hold