Obama Grabs Summit Spotlight; Talks Get Tough: COP26 Update
(Bloomberg) -- Barack Obama took center stage at COP26 in Glasgow on Monday. The former U.S. president, getting the celebrity treatment from delegates, implored nations to work together on climate matters and urged young people to get involved.  
As the second week of the summit got under way, delegations delved into detailed talks as they seek to make progress before the conference's scheduled close on Nov. 12. With the focus on creating a global carbon market after six years of deliberations, negotiators are expected to have some late nights ahead. 
Obama chides nations for falling short on climate fight 
China's central bank offers funds for green lending
Carbon-market talks struggle...
...and COP braces for all-nighters
Yet progress is hard without China at the table
China's daily coal output was the highest in years
Brazil, though, continues to spring surprises
(All timestamps Glasgow, Scotland)
Small Islands Hit Out at Slow Progress (3:46 p.m.) 
The Alliance of Small Island States rebuked larger countries for "delay and denial" as negotiators struggle to make progress on key issues like an agreement on carbon-market mechanisms and compensation for loss and damage caused by climate change. Milagros De Camps, deputy minister of environment of the Dominican Republic, said developed countries have conducted an "operation in greenwashing" and called for grants, not more debt for poorer nations. Talks, especially on the issue of loss and damage, have been "very challenging," she added.
Germany Sets Aside More for Developing Countries (3:21 p.m.)
Germany announced a further 150 million euros ($174 million) to help developing nations adapt to climate change. In total, Germany's contribution to international adaptation financing is now about 2 billion euros per year, the Environment Ministry said.
"Others now need to step up," Development Minister Gerd Mueller said in a statement, calling on the European Union above all to "think beyond its borders." Environment Minister Svenja Schulze added that Germany's support was "a signal of solidarity with those that are worst affected by the impact of climate change."
Emerging Markets Seen Needing $1 Trillion a Year for World Net Zero by 2050 (3:15 p.m.)
BlackRock Investment Institute estimates that emerging markets "will need at least $1 trillion per year in order for the world to achieve net-zero emissions by 2050 -- more than six times current investment." The only way to mobilize such capital at the scale and pace needed, is for governments that have the capacity to provide support to absorb some of the potential losses on emerging market investments, according to BlackRock's strategists.
If emerging market climate funding needs aren't met, global temperature increases could exceed those envisaged by the Paris Agreement, meaning that physical risks would lower global growth and reduce returns in financial markets more broadly, BlackRock Investment Institute strategists led by Alex Brazier wrote in a note on Monday. The strategists "estimate a cumulative loss in global output of nearly 25% in the next two decades if no action is taken to mitigate climate change, compared with an orderly transition scenario."
Obama Gets Star Treatment (2:50 p.m.)
"Hello, Glasgow!" former U.S. President Obama said. Delegates jumped to their feet, with thunderous applause and their camera-phones thrust in the air.
Almost five years after leaving office, Obama still has star status. His address was one of the hottest tickets at COP26, with some complaining of limited tickets for non-governmental organizations. Outside, delegates crowded around the entrance to the room, to catch a glimpse of the 44th president, who helped forge the Paris Agreement. 
Sharma Repeats Call for Urgency (2:15 pm)
COP26 President Alok Sharma reiterated his call for urgency, and promised to make sure talks wrap up "in a timely manner."
There are already signs of delay. COP conferences hardly ever finish on time.
UN Defends Presence of Fossil Fuel Representatives (2:15 p.m.)
The UN was forced to respond to an NGO report that more than 500 fossil-fuel lobbyists are registered at COP.
UNFCCC Executive Secretary Patricia Espinosa said it was up to individual countries to bring who they like, and the COP conference takes an inclusive approach.
"Some of the constituents may accredit some people that may be linked to some of these fossil fuels. The same in the case of some party delegations. It is really the sovereign right of every government to accredit as part of its delegation the persons that it deems appropriate," she said.
"We don't have any constituency that is a representative of fossil-fuel companies."
EU Under Investor Fire Over Green Rulebook (1:47 p.m.)
The EU came to COP26 negotiations touting its own commitments at home, yet its green rulebook risks being undermined by a pending decision on whether to include gas and nuclear energy, according to a draft document seen by Bloomberg.
The draft -- from the UN-convened Net-Zero Asset Owner Alliance, a group of investors that were involved with last week's $130 trillion announcement on climate finance -- states that the two technologies shouldn't be classified as green. Instead, they should be included under an extension, or separate legislation for transition technologies.
Fiji Slaps at U.S. for Funding Failures (12:01 p.m.)
Fiji Prime Minister Frank Bainimarama, speaking a few feet away from Obama, said rich nations have fallen short of their commitment to provide $100 billion annually by 2020 to poor countries. The U.S. is especially delinquent, he says. 
We've been told to "suck it up" and wait, Bainimarama said, adding that the "U.S.A. is woefully short" on finance.
Immediately before, Obama told the audience that "all of us have work to do."
"All of us have sacrifices to make," Obama said. "But those of us who live in big, wealthy nations -- those of us who helped to precipitate the problem -- we have an added burden to make sure we are working with, and helping, and assisting those who are less responsible" for but "are more vulnerable to this crisis."
Obama Brings His Star Power to Summit (11:50 a.m.) 
Obama is announced at the ocean nations event as "a giant in ocean and global conservation" and "our first island president."
Ministers and delegates, as well as the NGOs at the back of the hall, held up phones to catch Obama as he walked on stage. 
The former president says he was "shaped" by his experience growing up in Hawaii."
"In many ways, islands are the canary in the coal mine in this situation," he said. "They are sending a message now that if we don't act, and act boldly, it's going to be too late."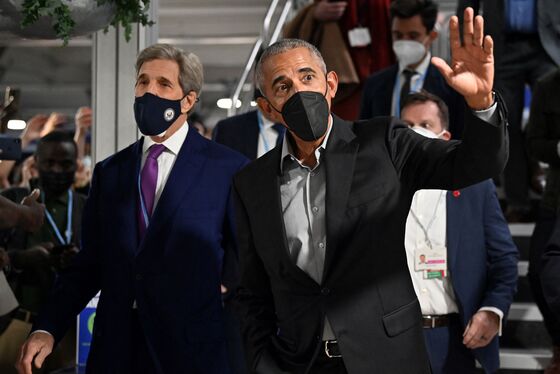 COP26 President Sharma Urges Progress (11:40 a.m.)
Week two at COP26 will mean late-night working for negotiators as President Alok Sharma wants them to make as much progress as possible in the remaining five days of the conference. Technical negotiations on issues including international carbon markets will continue on Monday and Tuesday, with majority of work to be concluded by Wednesday. At the same time, the presidency will continue consultations on its cover decisions and pairs of designated ministers will help negotiators find compromises on the most politically difficult issues.
"Our common objective is to adopt consensus decisions and conclusions on Friday, Nov. 12." Sharma said. "Achieving this objective implies that the finalization of pending texts will need to advance quickly, in the early part of the week. I expect only very few issues to remain open by the evening of Wednesday, when near-final text will be presented."
On Thursday, Sharma wants to resolve any outstanding issues.
Dutch Sign On to End Foreign Fossil-Fuel Project Funding (11:12 a.m.) 
The Netherlands is joining a pledge to forswear funding foreign fossil-fuel projects and prioritize support for clean energy ventures instead, bringing to $19 billion the amount of money that is expected to be shifted as part of the agreement. 
The move builds on the earlier commitment of the Dutch development bank, FMO, to the statement released last week at COP26 and will bring to 22 the number of nations that have signed on. To fulfill the pledge, Dutch export credit agency Atradius Dutch State Business will need to halt its funding of foreign oil, gas and coal projects by the end of 2022. Other holdouts include the European Union, France and Germany, though German Deputy Environment Minister Jochen Flasbarth has signaled his openness to joining.
Obama to Give COP26 Momentum: Germany (11:05 a.m.)
Germany's Flasbarth harked back to the signing of the Paris Agreement to say that the arrival of Obama at the conference would give the talks some "important momentum" going into their second week. 
Obama's Presidency "opened up" politics for more climate mitigation and his charisma would prove useful in galvanizing parties, Flasbarth said at a side event in Germany's pavilion at the conference.
Compromise Sought in Carbon-Market Push (10:50 a.m.)
Negotiators stopped short of bridging the gaps on international carbon markets in the first week of COP26, but are determined to find compromises, according to Tosi Mpanu Mpanu, chair of the SBSTA subsidiary body that oversaw the talks on emissions trading. More progress could be made this week, with ministers arriving in Glasgow and taking the issue to a higher level.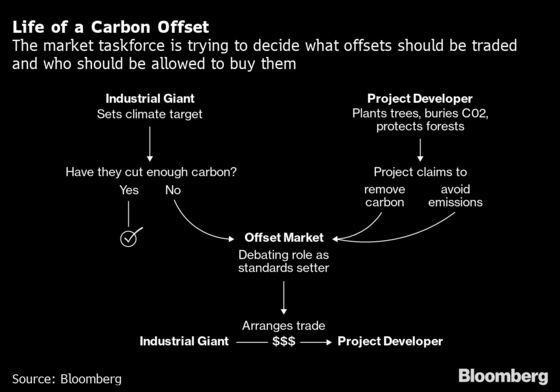 Fossil Fuel Lobbyists 'Flooding COP26:' Global Witness (10:40 a.m.)
More than 500 lobbyists affiliated with "some of the world's biggest polluting oil and gas giants," have been granted access to the climate summit, according to campaign NGO Global Witness. 
An analysis of a provisional UN list of attendees found 503 delegates representing the fossil fuel industry -- if it were a country delegation, it would be the largest. Canada, Russia and Brazil were among the 27 official country delegations that registered fossil fuel lobbyists, Global Witness said.   
China's Extra Coal Equals Poland's Annual Output (10.20 a.m.)
China's announcement that average daily output Nov. 1-5 was the highest in years equates to roughly 1.2 million tons more coal than it dug in September.
That means over a 90-day period, China is adding the equivalent of Poland's entire annual coal production.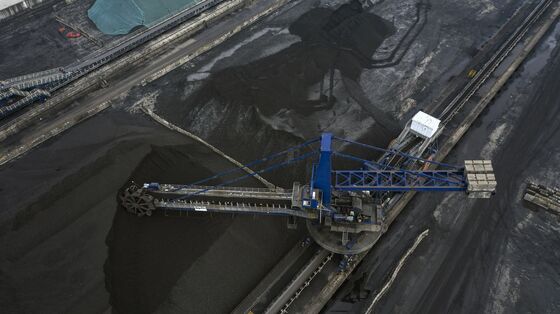 Vulnerable Nations Face Economic Devastation (8:50 a.m.)
The economies of small island nations and least developed countries would shrink by almost 64% by 2100, if temperatures warm 2.9 degrees Celsius compared to pre-industrial levels, according to new analysis published Monday by Marina Andrijevic, an economist at Humboldt University in Berlin, for the charity Christian Aid.

Even if countries keep global temperature rise to 1.5C as set out in the Paris Agreement, vulnerable countries face an average reduction in gross domestic product of 13.1% by 2050 and 33.1% by 2100, it said. The danger is particularly acute in Africa, with the worst affected predicted to be Sudan.
"It's possible that these numbers are conservative estimates if extreme weather events continue to cause substantial economic harm themselves in the coming decades," Andrijevic said. 
U.K. to Announce New Funding for Adaptation (8:01 a.m.)
As COP26 President, the U.K. government will seek to show it's doing its bit on Monday by allocating 290 million pounds in new adaptation funding, including support for countries in the Asia Pacific to deal with the impact of global warming.
Adam Smith Opus Updated for Climate Change Era (7:30 a.m.)
A group of economists have issued an updated version of the classic text "The Wealth of Nations" to reflect the contemporary challenges of a warming planet. 
The book of essays reassesses the 18h century work by Smith, often credited as the "father of economics," and concludes that if he were writing today, he would advocate interventions to accelerate the transition to a low-carbon economy.     
Just Catching Up on COP26?
Here's a quick recap of progress made during the summit's first week.
Stay Updated With
Tech News
On BloombergQuint