NXP Semiconductors Climbs on Report of China Regulatory Progress
(Bloomberg) -- NXP Semiconductors NV climbed after a report that regulators in China are looking more favorably upon the chipmaker's proposed acquisition by Qualcomm Inc.
The Wall Street Journal quoted an unidentified Beijing official as saying the deal's approval is "looking more optimistic now." NXP shares rose as much as 5.9 percent, the biggest gain since Monday. Representatives for Qualcomm and NXP declined to comment on Friday.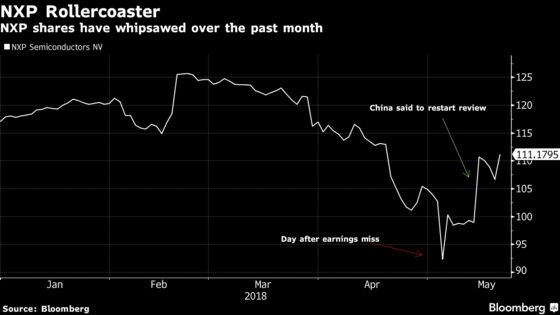 Contentious trade relations between the U.S. and China, and a weak earnings report from Netherlands-based NXP, have made for a tumultuous month for the company, whose purchase by San Diego-based Qualcomm has been long-delayed. The stock has gained about 20 percent since May 3, the day after NXP reported first-quarter profit and revenue that missed the average analyst estimate. Even with Friday's gains, the shares still trade at discount of about 13 percent to Qualcomm's $127.50 a share offer price.
Bloomberg News reported May 14 that Chinese regulators restarted their review of Qualcomm's application to purchase NXP, after having shelved the work in response to growing trade tensions with the U.S. Chinese companies have expressed concern that the combined entity would extend Qualcomm's patent licensing business into areas like mobile payments and autonomous driving.