New Jersey Plans Huge Port to Develop Offshore Wind Power
(Bloomberg) -- New Jersey Governor Phil Murphy plans to build a port on the Delaware River to handle massive turbines as the state pushes to become a hub for building offshore wind farms.
The state's Economic Development Authority will spearhead a project of at least $300 million to create staging and manufacturing areas southeast of Philadelphia, in Salem County, the governor said Tuesday. That's near the Hope Creek nuclear plant and free from bridges that could impede the towering ships needed to install turbines as tall as skyscrapers.
States from Virginia to Massachusetts are jockeying to be at the forefront of developing offshore wind farms in the Atlantic. Officials see it as a way to bring clean power to dense coastal regions, create jobs and boost manufacturing.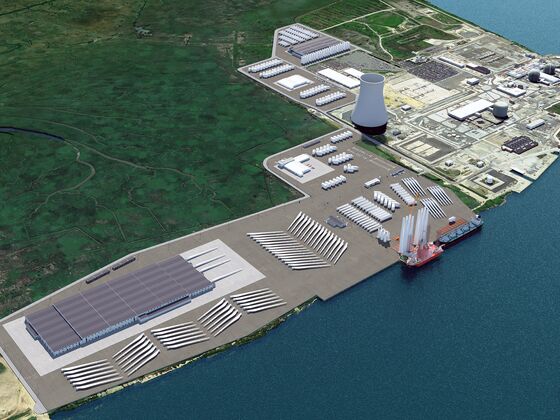 "The emerging offshore wind industry is one that gives us tremendous growth potential," Murphy said. "This is how we re-emerge, stronger, fairer and smarter."
New Jersey plans to get 7.5 gigawatts from power wind farms that Murphy wants to develop by 2035. A year ago, the state signed an agreement with Orsted A/S for its first installment of 1.1 gigawatts of offshore wind. New York Governor Andrew Cuomo is seeking 9 gigawatts by 2035.
Construction should begin in 2021, Murphy said at a Trenton news conference. Wind farms built with parts manufactured in New Jersey will be "up and down the Atlantic Seaboard," he said.
The Sierra Club hailed New Jersey's commitment to wind and its plans to build the first port designed specifically for both construction and manufacturing to serve the offshore wind industry.
The port will initially cover 30 acres with an adjacent 25-acre campus for manufacturing components. The area could be expanded to 150 acres for factories to make turbines and blades.