Netflix Briefly Tops Disney Market Value in Fresh Challenge
(Bloomberg) -- Netflix Inc. briefly topped Walt Disney Co. in market value Thursday, challenging the film, TV and theme-park giant for the title of most valuable media company.
Shares of the video streaming service rose 1.3 percent to $349.29 in New York, lifting the company's market cap to $151.8 billion. Disney retreated 0.8 percent, closing with a market value of $152.2 billion, according to data compiled by Bloomberg.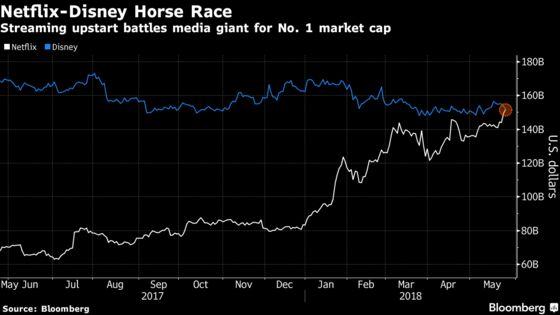 The advance underscores the high confidence investors have in the future of the world's largest paid online video service. Netflix's value has surged from about $20 billion at the end of 2014 and surpassed the world's most powerful media giants, Comcast Corp. and Disney, this week.
Still, Netflix's revenue remains well below that of the media titans. Comcast is the largest cable provider in the U.S. and parent of NBCUniversal, which owns film studios, pay-TV networks and theme parks. Its sales totaled $84.5 billion last year. Disney, with 2017 revenue of $55.1 billion, owns ABC and ESPN, two of the most valuable TV networks in the U.S., along with its namesake parks and resorts and prosperous movie studio.
Netflix's sales are forecast to grow 38 percent to $16.1 billion this year, based on analysts' estimates, as the company signs up more customers for its global on-demand video service. Subscribers totaled 125 million as of March 31.
The Los Gatos, California-based streaming company is spending billions on programming to attract new viewers, prompting concerns among some analysts. Netflix will lay out about $8 billion for movies and shows in 2018, and forecasts $3 billion to $4 billion in negative free cash flow.
Investors have forgiven the cash burn so long as the company keeps growing. Up 82 percent in 2018, Netflix is the top performing stock in the S&P 500 and has led the index three of the past six years. Disney is down about 5 percent this year, while Comcast has declined 21 percent.
Disney is responding to the threat posed by streaming services by moving more of its programming online. The company introduce a web-based ESPN subscription service and has plans for an additional offering. Comcast has begun selling the Netflix service as part of its cable packages.