Netflix Is Selling $2 Billion of Junk Bonds to Fund New Shows
(Bloomberg) -- Netflix Inc. is once again turning to the junk-bond market to fund new programming as the streaming-video giant seeks to maintain its torrid subscriber growth.
The $2 billion bond offering, which will be issued in dollars and euros, comes just a week after the company reported a bigger jump in subscribers than Wall Street analysts expected. While the bonds would push the cash-burning company's debt load above $10 billion for the first time, the company has seen its equity value skyrocket as it adds subscribers internationally.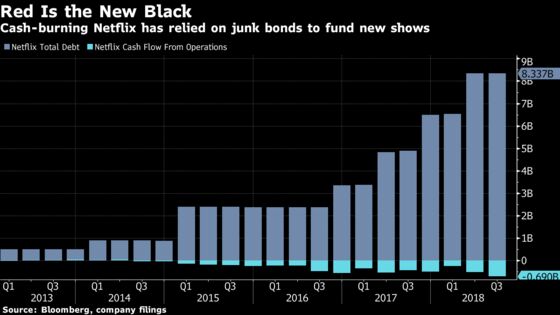 The U.S. portion of the 10.5-year bond may yield around 6.375 percent, while the euro notes could pay 4.625 percent, according to people with knowledge of the matter. Netflix paid less than 6 percent when it last tapped the market in April, in part because underlying Treasury yields were lower.
"To me it feels a bit like a win-win situation," said John McClain, a high-yield money manager at Diamond Hill Capital, which oversees $22.6 billion including Netflix debt. "You're buying the highest-quality, high-yield business at yields that are fairly close to the overall market. It's low-cost funding for them, especially relative to the cost of issuing new equity."
Netflix said in a statement that it will use proceeds from the offering to continue to acquire and fund new content. The company said last week that it expects to burn about $3 billion in cash this year as it continues to prioritize original series and movies. Morgan Stanley, Goldman Sachs Group Inc., JPMorgan Chase & Co., Deutsche Bank AG and Wells Fargo & Co. are managing the sale, according to a person familiar with the matter who asked not to be named because the deal is private.
Impressive subscriber growth and revenues have given the Netflix leeway to continue to spend massive amounts of money to fund its programming. Last week, S&P Global Ratings upgraded the company's credit by one level to BB-. Moody's Investors Service raised its rating in April, when the company last issued bonds.
Moody's said in a note Monday that it even though Netflix's debt load keeps getting bigger, the ratings firm expects a measure of the company's earnings to rise faster. Between now and 2020, as Netflix continues its transition from licensing shows and movies to producing its own, Moody's forecasts the company's total debt will fall relative to its earnings before interest, depreciation and amortization.
The company's announcement comes a few days after Uber Technologies Inc. raised billions of dollars of cash by tapping the high-yield bond market in a private placement. Demand for the debt has been spurred by the worst supply shortage since 2008, according to JPMorgan analysts, and the higher demand kept a lid on relative borrowing costs even as the Federal Reserve hikes interest rates.